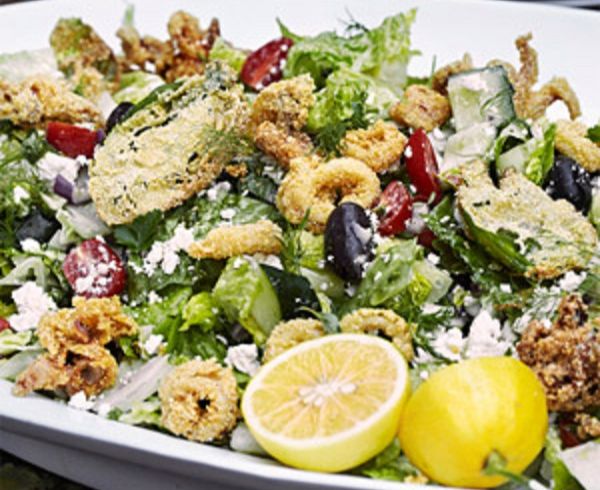 Nothing is as fresh as a salad. Salads are not mere appetizers, they can also be a whole meal. Salads are a houseful of delight both for vegetarians and non-vegetarians. The best part of salad is that you don't have to depend on numerous intakes of food for your essential nutrients. Besides, salads are easy to prepare, you just have to toss up your ingredients to create a storm. You don't have to think twice about your calorie intake while consuming salad. A lot of salad bars have opened up to entertain the tastes of people. Also, a lot of dishes are being served as salads as pasta salad, noodle salad. The Summer Calamari Salad is a salad that's a meal in itself and is an a la` carte` menu. This Italian salad will leave you asking for more. Try it out.
Complexity level: Moderate
Time taken: 30 minutes
1. Vinaigrette ingredients
1. 3 cloves garlic, peeled and finely minced
2. a pinch of sea salt
3. Juice of a lemon
4. 4 tablespoons fresh thyme and oregano leaves
5. 1 1/2 tablespoons fresh fennel buds
6. 2 tablespoons fresh parsley leaves
7. 1/3 cup extra-virgin olive oil
8. 3 tablespoons red wine
9. 1/2 tablespoon Dijon mustard
Vinaigrette Directions
1. In a blender, finely blend the minced garlic, sea-salt, lemon juice, and herbs to a fine paste.
2. Then add the olive oil, red wine, and Dijon mustard and stir continuously. Take care that the ingredients mix well. Set this paste aside.
2. Calamari Ingredients
1. 1 1/3 cup buttermilk
2. 1/2 lb calamari cleansed and cut into 1 " rings
3. 3 tablespoons freshly chopped basil and parsley leaves
4. 1 1/2 tablespoons fresh fennel buds
5. 2 cups cornmeal
6. 3 cups extra-virgin olive oil
Calamari Directions
1. In a medium sized bowl, mix the buttermilk, calamari rings, and herbs. Mix well with a spoon so that the calamari rings are well coated with the sauce. Pour the cornmeal in a separate bowl.
2. In a fry pan, heat oil on medium heat at gas mark 4.
3. When smoke arises, pour the calamari-herb mixture into the oil.
4. Fry this mixture for about 5 minutes, or till a light golden color comes. After frying the calamari rings, drain them on paper towels.
3.Salad Ingredients
1. 2 romaine lettuces, sliced lengthwise
2. 1 oz cherry or grape tomatoes, halved
3. 1 medium cucumber, cut into roundels
4. 4 heaped tablespoons crumbled feta cheese
5. 1/2 cup pitted black olives
Salad Directions
1. In a salad bowl, toss well all the salad ingredients together with the vinaigrette dressing till the ingredients are well coated.
2. Serve with the calamari and herbs mixture.