Name of the dish: Stuffed roma chicken
Roma is the Italian name of Rome, the capital and largest city of Italy. The name itself states the origin of this very famous dish. Stuffed Roma Chicken is flamboyant and has a mellow seasoning that makes it an ideal chicken stuffing. This dish is a must try to make your festive celebration exuberant and scrumptious.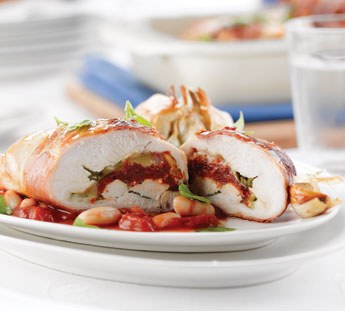 Complexity level: Easy
Time taken: 1 hour
Ingredients
4 boneless chicken breasts – 150 gm each
Basil leaves – 1 bunch
Sun dried tomatoes in oil, drained on a paper towel – 12 (chopped)
Reduced fat mozzarella cheese – 1/2 cup (grated)
Dry prosciutto Ham – 4 slices
Garlic – 2 heads
Can chopped tomatoes with herbs – 400 gm
Can Cannelloni beans – 400 gm (rinsed and drained)
Process
1. Preheat your oven to 180 degree Celsius. Take plastic wrap and place each chicken breast between two sheets of that wrap. Flatten the chicken breast with a rolling pin till it doubles the size.
2. Now, put some basil leaves, sun-dried tomato pieces and grated cheese into the center of each chicken breast. To enclose the filling, just furl the chicken breast. Toothpick can be used to secure the filling.
3. Use prosciutto to wrap around each chicken breast. Now, put the garlic heads and chicken breast in an oven proof dish. Spray olive oil on the dish and bake the chicken for 40 minutes or till it is cooked well.
4. Meanwhile, cook tomato and beans over medium heat. Once the chicken is cooked, remove toothpicks and serve immediately with the tomato and bean mix along with roasted garlic. Squeeze out the skin of roasted garlic. Add fresh basil and little bit of cheese for garnishing.
Tips
1. You can use sun-dried tomatoes from condiments or delicatessen section of the supermarket.
2. Make sure that the beans are cooked just well. Preferably, cook the bean and tomato mixture just five minutes before the chicken is ready.