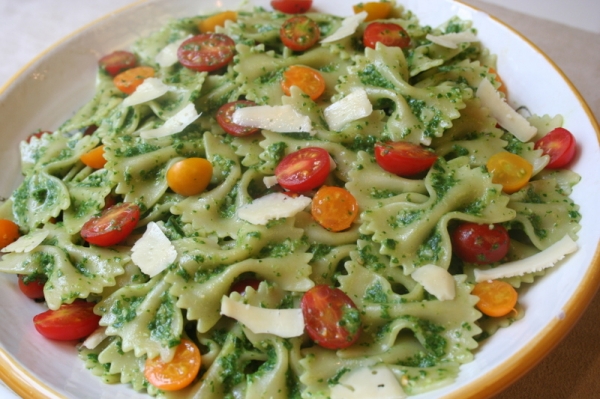 Let's go Italian with this delectable bow-tie pasta dish. It is popularly known as Farfalle con Pesto di Spinaci in Italy. Farfalla is "butterfly" in Italian. Hence, Farfelle is 'Butterflies'. This makes the meaning of this word. It was originated in 16th century in Northern Italy. It's an authentic Italian cuisine that is enjoyed throughout Italy all year round. If you're lucky to have an Italian chef, this is one authentic dish to try. Most of us may not be that lucky. To get the real Italian flavors, it has to be cooked just right. It's worth your time and effort.
Name of the dish: Farfalle with Spinach Pesto
Complexity Level: Easy. It can be completed in five simple steps.
Time taken: One hour
Ingredients
Almonds: Blanched and one third portion of a cup.
Spinach: Fresh and 8 ounces.
Butter: Unsalted and 4 tablespoons
Scallions: 4 and diced into one inch length wise.
Garlic Cloves: 2, Medium in size and diced in half.
Italian Parsley Leaves: tightly packed and one third portion of a cup.
Olive Oil: Half a cup.
Salt to taste.
Black Pepper: Freshly crushed by a pepper mill.
Sardo Cheese: One cup freshly grated.
Or (Choose any one cheese option)
Romano and Parmigiano Cheese: Half a cup.
Cherry Tomotoes: Few, sliced in half for garnish.
Farfalle: One Pound
Preparation
Step One: Chopping Almonds
Preheat oven and roast the almonds for 5-7 minutes. Remove from heat and let it cool. Chop them in a food processor. Set aside.
Tip: Use a metal blade to chop them coarsely. It gives almonds the right texture.
Step Two: Snipping Spinach
Wash spinach in lukewarm water very generously. Remove the stems. Dry the spinach in a paper towel or a dry muslin cloth. Now finely snip them into desired length. Set aside.
Tip: For a genuine Italian cuisine, the apt length for spinach pieces is one inch.
Step Three: Making base for pesto sauce
Take a saucepan and put it on low heat. Add butter to it. Use only 3 tablespoons as of now. Once the butter melts, add garlic and scallions in their directed form. Mix them well and cover the saucepan with a lid for 3 minutes. Set the tender mixture aside.
Tip: It may take a little less than three minutes. Check the mixture after two minutes to get the desired tender texture.
Step Four: Making the pesto sauce.
Put the base for dressing in a food processor. Add snipped spinach, parsley and olive oil with half a teaspoon salt and freshly milled pepper. Process the batter until you have a smooth thick paste like dressing. Add your choice of cheese and blend it in a bowl.
Tip: During the churning process, use of rubber spatula for scraping down mixture on the walls of the processing jar is advised. Essentially, there should not be any particles in the smooth dressing.
Step Five: Cooking Pasta
Boil pasta in 6 quarts of water and one tablespoon of salt until tender. Drain the excess water from the pasta. Set aside half a cup of the excess pasta water in a separate bowl. Add one tablespoon butter to freshly boiled pasta in a bowl and toss it. Add half portions of pesto sauce and almonds and toss again. Now add 6 tablespoons of the pasta water and toss again. Add the remaining pesto sauce and toss well. Garnish beautifully with almonds. Also garnish with freshly grated cheese and cherry tomatoes for the true Italian feel.
Tip: Ensure the butter is softened before adding the pasta. Do not take so much of time tossing the pasta as it should not get cold. Toss well only when you add the remaining pesto sauce.