A cream puff is a dessert made with choux pastry dough and a filling such as whipped cream, custard or ice cream. The light, airy pastry pairs with the heavier dairy product to make a dense, rich and flavorful dessert, which is often dressed with chocolate or caramel sauce. The recipe of cream puffs is relatively simple and it treats as the base for a variety of desserts. Once the basic puff pastry has been mastered a cook can experiment variety of cream puff fillings with variety of sauces.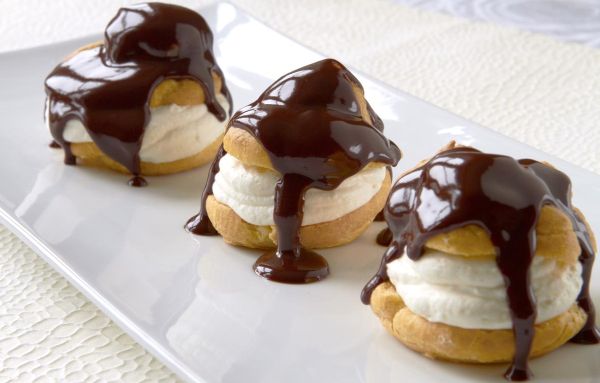 The cream puff was found in 1851 in US restaurants. The record for world's largest cream puff was achieved on 11 August 2011 at the Wisconsin State Fair by the Dave Schmidt and Team Cream Puff weighing 125.5 pounds. The Wisconsin State is well known for its dairy bakery products which producing cream puffs since 1924.
Complexity level: Medium
Time taken: Approximate time to make this dish is about 70-80 minutes
Ingredients
Pastry puffs
1 cup water
1/8 teaspoon sea salt
4 tablespoons butter (unsalted)
1-1/3 cups unbleached flour
1/2 teaspoon sugar
2 egg whites
3 eggs
Pastry cream
1/4 bowl water
3 Bartlett pears
1/4 cup sugar
1/2 cup flour
3 tablespoons butter
2 vanilla bean
1 cup milk
3/4 cup cream
Sauce
1 tablespoon sugar
1/4 cup water
2 tablespoons cream
5 ounces dark chocolate
2 tablespoons rum
Sea salt
Special equipment
A pastry bag 3/4-inch fluted tip and a 1/4-inch plain tip
Process
Pastry puffs
Heat oven to 425º. Put line a large baking sheet with parchment paper.
On a medium heavy saucepan, put butter, sugar, water and salt to a boil over medium-high heat. Add flour and, using a wooden spoon, immediately stir until mixture is well combined.
Transfer this mixture to a bowl of an electric mixer fitted with the paddle attachment; mix on lowest speed for about 1 minute.
Increase speed to medium and add whole eggs, one at a time. Beat until dough is smooth, about 2 minutes more.
Spoon dough into a large pastry bag fitted with a 3/4-inch fluted tip and pipe 24 mounds onto prepared baking sheet, each about 1 3/4 inches in diameter, leaving 1-1/2 inches between mounds.
Bake until puffs are lightly golden, about 25 minutes then lower the temperature of oven to 400º.
Pastry cream
Arrange pears, cut-side down, in a baking dish and add water.
Split the vanilla bean lengthwise and spare seeds over pears. Sprinkle it with sugar. Bake it for 10 minutes, then turn pears and continue baking about 10 minutes more.
Put contents of baking dish to a food processor. In a small pan, melt 3 tablespoons of butter and remove it from heat. Add flour and stir it well to combine.
In a medium saucepan, bring cream and milk to boil medium heat. Add pear and flour mixture, stir to combine.
Continue to cook, until pastry cream is thick enough to form a ribbon like structure.
Remove it from heat and keep it sit until it gets cool enough to carry. Put baked pastry cream into a pastry bag of a 1/4-inch plain tip. Insert tip into bottom of each puff, and fill it.
Sauce
In a small saucepan, combine rum, cream, chocolate, sugar, water and salt. Heat it over medium heat, stirring often, until chocolate get melt and sauce becomes soft.
Serve dish by arranging cream puffs and chocolate sauce.