Festive season is all about eating, drinking and enjoying. With Christmas around the corner, families are sharing the joys of togetherness by preparing yummy meals, delicacies and delectable desserts. Cranberry Christmas cake is one of those delightful desserts that can make your Christmas even more special. The cake is similar to Black Forest Cake and is made with chocolate genoise, chocolate mousse, candied cranberries and a frosting that resembles snow. If this sounds yummy to you then check out the recipe to make it for your family.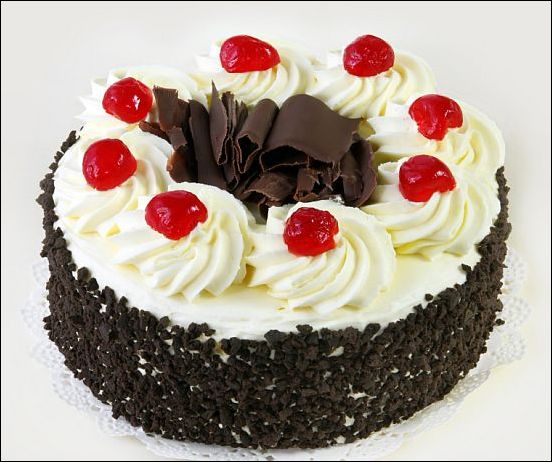 Complexity level: The cake is easy to prepare if you have ever prepared a black Forest cake, but it is moderately difficult if you haven't prepared a similar cake before. But all the hard work is worth for the end result.
Time taken: 3 hours
Ingredients: The dish has three different elements that are assembled together.
a. Candied cranberries:
Fresh Cranberries- 220 gram or 2 cups
Granulated White sugar- 250 gram or 1 1/4 cup
Water- 180 ml or 3/4 cup
b. Chocolate genoise:
Melted unsalted butter- 3 tablespoon
Cake flour- 65 gram
Salt- 1/4 teaspoon
Regular cocoa powder- 30 gram
Eggs- 4 large
Granulated white sugar- 135 gram
Vanilla extract- 1 teaspoon
c. Frosting and filling:
Heavy Whipped cream- 600 ml
Kirsch or cherry brandy- 2 tablespoon
Semi sweet or bitter sweet chocolate- 115 gram (coarsely chopped)
Water- 2 tablespoon
Vanilla extract- 1 teaspoon
Granulated white sugar- 30 gram
Process: Follow these steps to prepare cranberry christmas cake.
1. Start by preparing cranberries. Place 2 cups of cranberries in a 2 liter heatproof bowl and steam them in a pot or steamer. Fill the steamer till a few inches and put the bowl over it. Steam on simmer.
2. Now combine sugar and water in a sauce pan and bring to bowl. Now add this sugar syrup into the cranberry pot. Cover the pot or the steam and let the berries steam over medium or low heat for 45 minutes.
3. Remove the cranberries and allow them to cool. In case, you are using it right away then drain the berries. You can use the syrup for some other purpose. Covered berries can survive in refrigerator for two weeks.
4. Now start preparing your chocolate genoise. Preheat the oven at 180 degree Celsius. Take a 9 inch round cake pan and butter or spray it with oil. Line the bottom of the pan with parchment paper.
5. Sieve flour, salt and cocoa powder. Whisk eggs and sugar in a heatproof bowl. Place it over a saucepan with simmering water. Whisking constantly and heat until the eggs and sugar mixture is lukewarm. Remove from heat and transfer it into a bowl. Beat the mixture with an electric mixer on high speed till the mixture is cool, has tripled the volume and looks like softly whipped cream. Mix in vanilla extract. Now sieve about one third of the flour mixture over the whipped eggs. Fold the mixture using a large rubber spatula. Now, gently fold the remaining flour. Don't mix over or else the batter will deflate.
6. Now, take one cup of the batter and fold it in hot butter mixture. Then, gently fold the butter mixture into the egg batter. Pour the mixture into the cake dish and smooth the top. Bake it in the oven till the cake shrinks slightly on the edges. This will take avout 20 to 25 minutes. Use a toothpick to know if it is cooked to the desired level. A toothpick will come out clean from the center if it is cooked well. This genoise can be kept frozen for a couple of days.
Assembling the cake:
1. Drain the cranberries. Make a liquor syrup by combing 80 ml or drained cranberries with 2 tablespoon of Kirsch.
2. Melt chocolate and water and let it cool at room temperature.
3. Now, take a serrated knife and cut the chocolate genoise horizontally into two layers. Turn the layers to make the top of cake the bottom layer. Brush the layer with liquor syrup ( 2 tablespoon).
3. Beat 120 ml of chilled heavy whipped cream until soft cream forms. Now whisk it quickly into the chocolate mixture. Spread this chocolate cream into the moistened genoise layer.
4. Place drained cranberries on the chocolate cream to cover it completely. The rest of the cranberries shall be used for decorating the cake.
5. Now moisten the second genoise layer with 2 tablespoon syrup. Place the moistened side on chocolate cream and press gently. Now, moisten the top layer with syrup.
6. Beat remaining whipped cream with 1 teaspoon vanilla extract and 28 gram of granulated white sugar till a soft peak is formed. Spread a thick layer on top and sides of the cake. You can use remaining cream to decorate the cake. Use a pastry bag for this purpose and make large rosettes.
Tips:
1. If you don't want to use candied cranberries right way then cover its bowl with plastic wrap. After two or three days, these berries will become a little jellied when kept at room temperature.
2. Refrigerate the cake for 24 hours before serving. While serving, drain the remaining cranberries and add them to the top.