Almond Devils on Horseback
This delectable Christmas treat is a twice-removed cousin of the "Angels on Horseback". It is served as an appetizer or savory (small dish). Originally, "Angles on Horseback" is an English preparation, the American Midwestern version of which would be "Pigs in a Blanket". Angels on Horseback is traditionally made of oysters wrapped in bacon. However, in Devils on Horsebacks, the oysters are replaced with dried fruits. The devils are made using prunes or dates that are then stuffed with mango sauce and wrapped in bacon. This is then baked in the oven and served with toast. Other versions of this preparation include stuffing the prunes with cheese and almonds in place of mango sauce. This preparation uses almond as a stuffing for the prunes. Hence, the name Almond Devils on Horseback.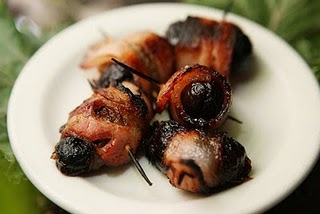 Complexity level: Moderate
Time taken: Two and a half hours to three hours
Ingredients:
24 prunes d'Agen
1 pot of earl grey tea
100g sugar
200ml water
100ml red wine vinegar
One stick cinnamon
Six cloves
One small hot red chilli
24 almonds
24 thin slices of pancetta
Process:
To start with, the prunes have to be soaked in a pot of hot earl grey tea for about half an hour. Alongside, heat some sugar with water and vinegar in a small pan until the sugar is completely dissolved. Add spices and cook for a few more minutes. Once this is done, remove the mixture from heat, add the prunes, and leave them to soak for a couple of hours.
To prep the prunes, remove the stones from each and insert an almond in its place. After this, preheat the oven at 200 degree Celsius or 400 degree Fahrenheit; for gas-operated oven, set it to Gas 6.
Now, wrap each almond stuffed prune with a piece of Pancetta or bacon. The wrapped prunes have to be placed close together on a shallow roasting tray. After the prunes have been placed in the tray, pour in a little spicy vinegar soaking mixture and bake for ten minutes. Your Christmas treat is ready to be devoured. These proportions serve eight.
Tips:
These should be served warm and not hot, in order to completely enjoy the flavors.
When preparing the dish for company, budget at least three devils per person.
Pancetta has been used in this preparation, instead of English bacon, solely because it slices thinner and crisps better.
The most expensive component of this dish is the prunes d'Agen, which has been chosen because of its larger size and juicier content. Substitutions can be made accordingly in dish, if required.