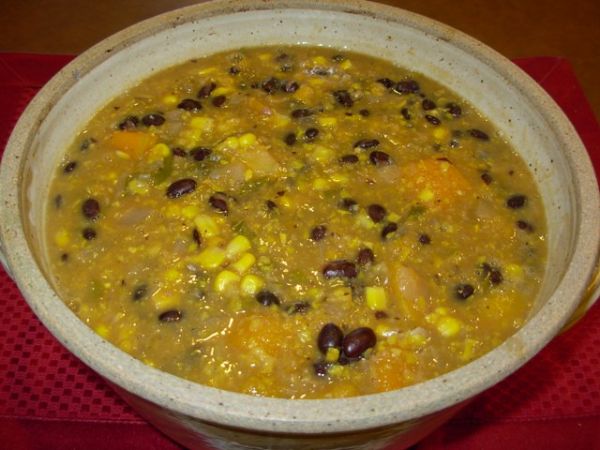 Chilean bean and corn stew, traditionally known as porotos Granados, is a popular dish in Chile. It is usually made in summer when fresh cranberry beans are in abundance. Squash, corn, beans and tomatoes are its basic ingredients. Although, when cranberry beans are not available, you can also use its substitutes. It is basically served as appetizer which only increases your hunger and craving to eat it more. The dish is enjoyed with a garnish of pepper sauce, called pebre in Chile. Try out this exquisite Chilean dish on a lazy evening.
Complexity: Medium
Time: 1 hour and 15 minutes
Ingredients
1. Two cups vegetable broth
2. One large chopped tomato
3. Two cups fresh cranberry beans or canned white beans
4. Two cups corn kernels
5. One cup peeled and diced butternut squash or acorn
6. One hot seeded and minced green Chile pepper
7. One cup sliced onion
8. Three tablespoons oil
9. Two cloves minced garlic
10. Two tablespoons paprika
11. Two tablespoons finely chopped fresh basil
Process
1. Gently simmer the cranberry beans in water for around 45 minutes. Drain them and set aside.
2. Pour the oil in a heavy pan and heat it. Throw in the finely chopped garlic and onions. Cook it till it becomes translucent. Put in cumin, paprika, pepper, diced squash, tomato and corn. Mix it well and cook it until the vegetables become tender. Keep it stirring in between for around 10 minutes. You know the vegetables are done when aroma starts rising from the pan.
3. Add a mug of the vegetable broth, cover it and let it simmer for 7 to 10 minutes. Now, add the cranberry beans and cook for around 20 minutes. If the dish requires, you can add more vegetable stock. When the squash starts to melt and becomes soft and the stew starts to get thicken, you know the dish is almost complete. If you want thicker stew, simmer it for more few minutes. And if you like it thin, add vegetable stock. Throw in the finely chopped basil leaves and cook for more two to three minutes, so that the dish captures the fragrance and zing of lovely basils.
4. Add pepper and salt to season the dish.
Tips
1. Fresh cranberry beans are the traditional choice for the dish, but it can also be substituted with other beans if it's not available. You can try lima beans or canned white beans.
2. Use pumpkin, if you can't find butternut squash.
3. If you like this dish more fiery or hot, add one or two more crushed chili peppers.
4. The dish is usually served with special Chilean tomatoes and chopped cilantro, along with julienned onion tossed with vinaigrette.