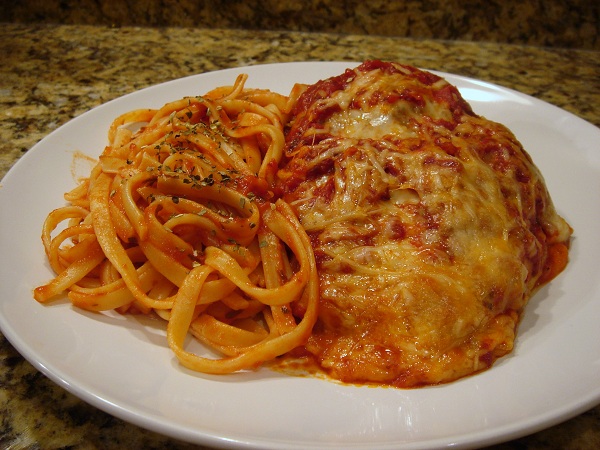 A creamy, cheesy main course chicken dish imported fresh from Italy. The chicken parmesan is a special dish of chicken cutlets drowned in white gravy made of cheese and cream. The chicken parmesan stands by the common myth that Italian dishes are mostly creamy. The earliest parmesan dish that can be traced is the aubergine parmesan where aubergines were shallow fried and thinly layered with cheese sauce. Chicken parmesan is not just a main course dish, it is also served as a filling in subs, the chicken sauce is also served by spreading on pasta. Various variants have arouse that are equally popular and delicious as beef parmesan, pork parmesan. In some versions, the cheese used is also different as instead of hard, granular parmesan cheese, soft mozzarella cheese can also be used. Whichever version you try out, it is bound to be 'la bouna cuciona'.
Name of the dish: Chicken Parmesan
Complexity level: Easy
Time taken: 30 minutes
Ingredients:
1. 4 boneless chicken breasts sliced into halves of 1/2 inch thickness
2. 2 tablespoons tomato grated
3. 2 tablespoons extra-virgin olive oil or olive oil
4. 1/2 teaspoon oregano leaves or dried oregano powder
5. 1/4 teaspoon basil leaves or dried basil powder
6. Salt and freshly ground black pepper for seasoning
7. 1 egg
8. 1 tablespoon toasted bread crumbs
9. 1/2 cup cream milk
10. Parmesan cheese
11. 2 tablespoons Mozzarella cheese
Process:

1. Break egg into a bowl with the help of a spoon. Add the milk into the bowl and whisk constantly with the help of a hand egg beater. Season this mixture.
2. Add the chicken breasts into the egg-milk mixture and coat it nicely with the liquid by turning the chicken and dipping it.
3. Pour the extra-virgin olive oil in a medium sized pan and heat it on high heat. Now slowly slip off the chicken breasts into the pan. Fry the chicken breasts on low heat. Cook the chicken for about 7 minutes in the oil till a brownish color appears on the surface. Now cook for about 4 minutes turning the side, until a golden color appears. Your chicken cutlets are ready.
4. After the chicken is browned nicely, arrange the breast halves in a baking dish.
5. Preheat oven to 350 degrees.
6. Sprinkle the mozzarella cheese over the chicken breast halves. Now sprinkle the Parmesan cheese and a little more mozzarella cheese to give the extra cheesy effect.
7. Spread the grated tomato evenly along with all the herbs and seasonings.
8. Now bake in the preheated oven at 350° for about 25 to 30 minutes, or till bubbles crop up.
9. Serve hot with pasta, garlic bread or fill in a sub to have a nice sandwich.
Tips:

1. Instead of mozzarella cheese, any other variant of soft cheese can be used.
2. If you want then you can deep fry the chicken cutlets. It tastes yummy.