The red curry paste is the core flavoring for Thai cooking. It forms the backbone ingredient in a number of other non related dishes too. This paste is derived from careful combination of many ingredients in correct proportions to give the perfect taste. Given its popularity and enhanced food taste, grocery stores normally stock ready made packets of this curry paste too, but it is always better to make your own red curry paste mix for that extra essence in Thai cooking.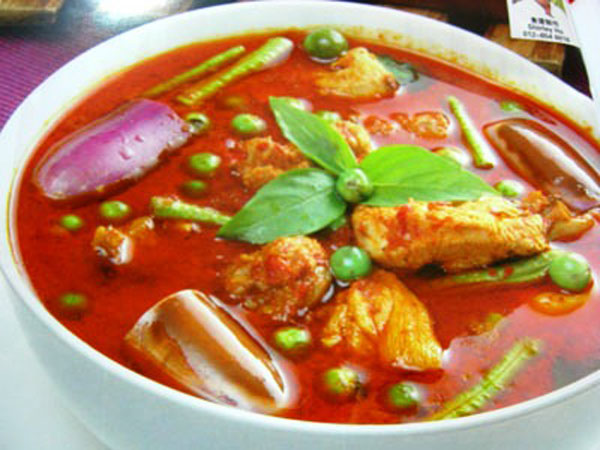 Complexity Level: Easy
Time required: 20 minutes
Ingredients:
4 – 5 Dry red Chillies
4 shallots or 1 medium red onion chopped
4 cloves garlic
1 inch chopped galangal
1 stalks of lemon grass chopped well
2 Teaspoons of chopped kafir lime / lemon rind
1 Tablespoon of chopped coriander root
2-4 White Pepper corns whole or powder
1 teaspoon coriander seeds
1 teaspoon cumin seeds
2 Table spoon Fish sauce (For Vegetarians use Soy sauce)
1 Teaspoon Shrimp paste (Optional)
2 tablespoon Lemon Juice
1 inch cinnamon stick
Process:
1. Slit the chilies into half and remove the seeds from its cavern and then soak them in a bowl of warm water for some time.
2. On the other hand take a small skillet and dry roast mildly, pepper corns, cumin seeds, coriander seeds and the cinnamon stick.
3. Now, drain off the water from the chilies and add it with all other ingredients into a food processor, grinder or electric blender. Use the lemon juice to adjust the thickness or consistency of the paste.
4. Roughly run the electric blender for 15 – 20 seconds. Then open the jar and scrape the entire paste down to the middle of the jar before running the jar once more for 10 – 15 seconds. Till it turns into a fine glazed paste.
5. While cooking add coconut milk, turmeric powder and salt. It can be fried before adding it to your choice of vegetables, tofu or chicken/meat/prawns etc., to make the perfect Thai red curry.
Tips:
1. This versatile curry paste can be made before hand and stored for as long as 2-3 weeks in the refrigerator normally or in the deep freezer for 3 months. However, the paste has a very pungent smell and should be put in a tight lidded jar to keep the smell affecting other food items in the area.
2. When you add your red curry paste to any dish, remember that the flavor would be hot and spicy. So use moderate portions of this paste.
3. If you do not like too much spice make sure that the red chillies selected are mild and lend more of color than spice. Consult your local grocer for best selection.
4. Sometimes the lemon grass tends to be very fibrous. In that case, after grinding, squeeze out the extra fibrous parts from the paste.
5. In case you do not find galangal, use ginger, but the flavor and aroma definitely will vary from the traditional paste in that case.
6. Add the shrimp paste at the end of the running of the blender, to get a more flavored mix.