To surprise the guests with your art of cooking, recipe to this little sweet, tacky ginger-chicken is an ideal bet. It can turn out to be the most impressive chicken dish that you can think of. It definitely makes for an ideal finger licking food item. This easy to cook dish is healthy, light and delicious. Read on to find out how can you cook this finger licking dish.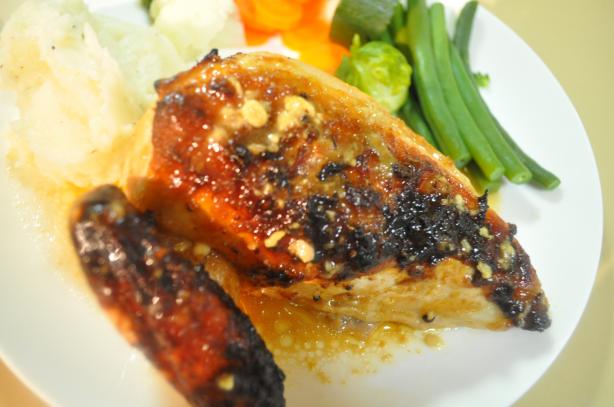 This low fat recipe can't get any better for someone trying to watch their figure as this foodstuff is low in calories, cholesterol, saturated fat, sugar and sodium. It takes about 1 hour 5 minutes for this sweet and salty dish to be ready to tempt your taste buds.
Complexity: Easy
Time Taken:
Preparation time: 5 Mins
Cooking time: 1 hour
Ingredients:
To make this easy low fat dish with an aim of four servings, you will need the following:
1. Two tablespoons honey
2. Four big boneless skinless chicken breasts
3. Two tablespoon Dijon mustard
4. 30 ml water
5. Three teaspoons ground ginger or one tablespoon freshly ground ginger root
6. Three garlic cloves, peeled & rumpled
7. Salt, to taste
8. Garden fresh crushed black pepper as per taste
9. One teaspoon cayenne pepper (optional)
Process:
1. To prepare this high protein and low fat food item, preheat the oven to 180C or 350°F. Take a large lining baking dish and place the chicken breasts into this baking dish.
2. In a large bowl, mix together the honey, mustard, water, ginger & crushed garlic.
3. Lift the chicken breasts from the baking dish and add it to this, honey ginger mixture and keep it aside to marinate for 20 minute so the mixture runs underneath it.
4. Add salt and freshly crushed black pepper to add taste and bake in the oven for 45 to 60 minutes until cooked through and golden.
5. Garnish chicken breast with some cooking sauce. Sprinkle some chopped parsley & serve with a combination of steamed vegetables & pasta.
Tips:
1. Ginger, which is an important ingredient here, helps to digest food and contains antioxidants.
2. You can also choose to serve the hungry Greeks some fried chicken breasts. For this arrange to pan fry the marinated chicken breasts in a heated frying pan. Dry fry them momentarily to give them a bit of golden brown color. Supplement it with some cooking sauce and blend well. Let it cook for about 20- 30 minutes. Medium heat is recommended at this stage. Turn the temperature down to keep warm until you want to serve it. Then present this dish in your choice of serving bowls as before.
3. You can open freeze the left over dish before putting in a resealable plastic freezer bag to satiate your palate the next day. You can thaw it number of times to serve it as a quick snack. You will have to reheat the dish in the oven or microwave until piping hot each time before serving to maintain its taste.
4. For those calorie conscious folks, note that it has approximately 320 k cals per serving.