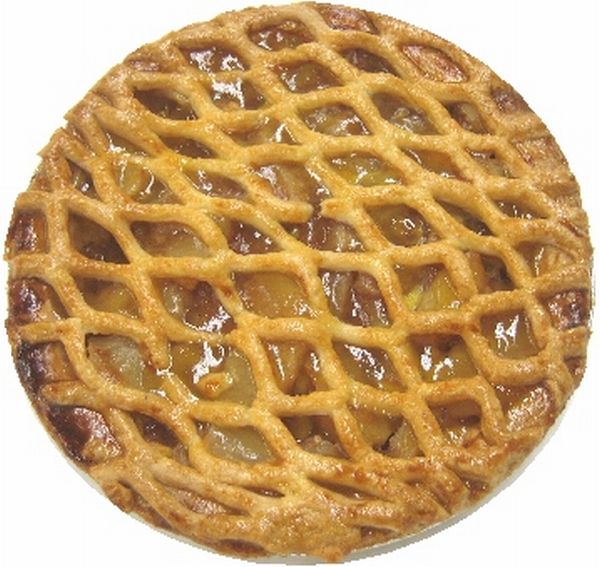 An easy way to incorporate fruits into your diet is by making different kinds of pie out of them. One such wonderful healthy dessert is "apple pie". An apple pie is a fruit tart or fruit pie. In apple pie, the basic filling is apple. Apple pie is also eaten with ice cream or whipped cream on top. Flour pastry is normally used at both top and bottom, which makes it a double-crust pie. Generally, the top crust will be a compact disk shaped crust or even a network of pastry that is weaved into strips.
The only exceptions in apple pies are deep-dish apple pie that have upper crust and open-face Tarte Tatin. The recipes of apple pie in English apple date back to the period of Chaucer. Apple pie was a very common dessert in eighteenth century. The recipe of 1381 denotes the ingredients of apple pie as good spices, good apples, raisins, figs, and pears. In order to color the pie filling, saffron is used. Apple pie takes a major place in dessert varieties in English countries.
Generally, Dutch apple pies are ornamented in a lattice manner. Dutch apple pies may include ingredients like icing and raisins, along with the ingredients like sugar and apples that are common. There is a painting from the Dutch Golden Age which dates back to 1626. It features an apple pie. In Sweden, the apple pie is different. It is different from the Dutch and English apple pies. A Swedish apple pie has no pastry and therefore there is also no crust. In the 19th and 20th century apple pie became a representation of American wealth and the nation's pride. In 1902, an American newspaper published an article that affirmed "No pie-eating person can be permanently beaten." Apple pie was also honored in the expression "for Mom and apple pie" which was evidently the reserved reply of American soldiers in World War II, at the time when journalists questioned them why the soldiers were heading to war.
Complexity level: Moderate
Time taken: 95 minutes
Ingredients
A cup of all purpose flour
½ teaspoon of salt
1/4th cup of cold butter
2-3 tablespoon of ice cold water
Ingredients needed for filling:
2 cups of cored, peeled, sliced gala apples
2 cups cored, peeled and sliced granny smith apples
1 Tablespoon of lemon juice
1/4 cup of brown sugar
2 Tablespoon of granulated sugar
1 ½ tablespoon of all purpose flour
2 Tablespoon of regular butter
Process
1. Mix the salt and flour in a large mixing bowl.
2. Slice the cold butter with the help of two knives or you can a pastry blender also.
3. Spray one tablespoon of ice water at a time into the mixture and mix it with a fork after adding each time.
4. With the help of your hands, form a ball out of the dough.
5. Roll the dough into an 11-inch circle flanked by two sheets of plastic wrap that is coated with cooking spray.
6. Keep the dough in the refrigerator for about 30-35 minutes.
7. Now, preheat the oven to about 425°F.
8. From the pie dough, eliminate the top sheet of plastic wrap. Twist the dough over a ten inch pie plate, which is covered with cooking spray.
9. Eliminate the rest of plastic wrap layer as well.
10. Firmly press the dough into the pie plate and make tubes or flute on the edges with the help of your fingers.
11. Mix the apples with the lemon juice in a big bowl. Mix the flour and sugar in a separate bowl. Add this sugar mixture to the apples and then transfer the apples into the pie crust.
12. Using a knife, cut or slice the remaining butter into tiny pieces and spread the butter pieces on the upper part of the pie.
13. Now, bake this at 425°F for about 10-15 minutes and then reduce the temperature to about 350°F and continue baking for an extra 30 or 35 minutes depending on the oven.
Tips
The best variety of apples to use for apple pie should be crisp and a bit tart that will be constant enough to be stable at the time of cooking. Some of the best apple varieties are Granny Smith and McIntosh apples. Even though, the Red Delicious apples are also best, their consistency may not be suitable for making a good apple pie.