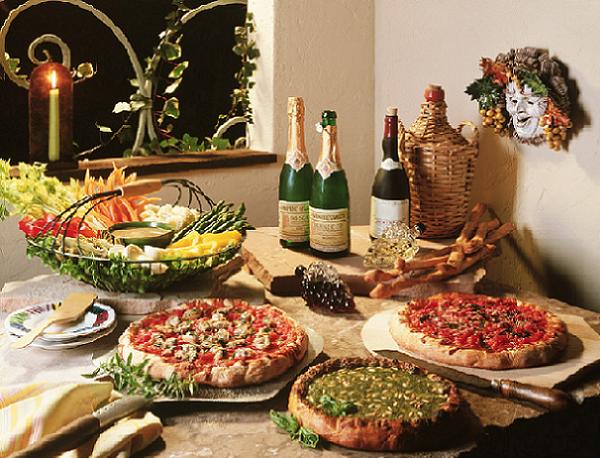 There is no doubt that Italian food is one of the most popular cuisines across the world, especially in the west. In the Western countries, most of the kitchens prefer to have at least one Italian dish among many such as pizza, spaghetti and many more. They are cooked in various styles with common ingredients like vegetables, fruit, olive oil, cheese, cereals and wine. Among the vegetables, tomatoes are the most used and important ingredients. Tomato is considered both a vegetable and fruit in the Italian cuisine. Italian food is a traditional food which has been appreciated from the Romanian period. As the cooking style also depends from the different regions of Italy but popularly adopted and available in the world.
Among various Italian recipes, pie serves both as a great appetizer and as dessert. Pies which are mainly made with vegetables including pepper, zucchini, aubergine and carrots along with Speck and Asiago cheese are eaten as appetizers while sweet apple pies, blackberry pies are eaten as dessert. They are cooked in such a way that it seems it is not a chef's creation but the grandmother's, which are ideal for home cooked food. Not only cheese and wine are the main part of the cuisine, even coffee especially espresso is discovered to be vital in Italian cuisine. However, the main question that arises are the reasons of the ever increasing popularity and their unique features which are elaborately described below.
1. Home cooked food
According to a cooking magazine in foreign countries it is said that Italian recipes are basically targeted as home cook food because of its ingredients which are produced under strict safety rules. It is further related to a recent research which probes that the percentage of pesticides contained in Italian foods is only 0.7% which relates only to the chemicals used.
2. Quality
Italian food are famous for its quality such as its ingredients and the production system. The production process is of high standard and produces unique products.
3. Simplicity
It is easy and simple to cook as most of the ingredients are common and it doesn't take much effort to find them in the market. Like if you have tomato, bread, olive oil and cheese then you don't have to think anything apart from Italian food.
4. Healthy
Most of the people are aware of the benefits of a Mediterranean diet and the products but few of them know that it is originally associated from Italy as it helps in preventing heart-related diseases. So, Italian cuisines are very healthy too and very famous in the West.
5. Delicious
Most of the dishes are delicious because of its ingredients which can be cooked in different variety. For example, to make a salad dressing, fresh vegetables with great olive oil and some balsamic vinegar will make it tasty and does not take much time.
6. Fantasy
Among the ingredients, fantasy is also an important factor for creating any innovative dish. If you ask any Italian how to implement left over food stored in the fridge. They will surely advise you a tip to improvise and empty your fridge.
7. Cooks quickly
Italian cuisine is a favorite among tourists so many Italian restaurants flourish in the West. The most popular Italian dishes include cold meat, cheese, small sandwiches, pasta, bruschette, spaghetti, risotto and ravioli which is easy, quick to cook and offers home style cooking.
8. Cheap ingredients
The ingredients are cheap and anyone can master Italian cook as it is fun to create your own. It can be cooked as sweet, spicy and to make it more tastier you can add sauce too. You don't have to buy sauce from the market, you can make variety of them at home by simple ingredients or for one particular dish such as pasta. Both non vegetarians and vegetarians can equally enjoy an Italian diet.
9. Variety
Italian cuisine offers a large variety for you to choose from. Be it hundreds of different shaped pastas or pizzas. Simple dishes like cheese pasta is very easy to indulge in. It is good for all ages specially kids who love to have variety pizzas as their best chosen appetite.
10. Balanced Diet
Italian foods are very balanced in calories and nutrients. You will find in different variety with meat, chicken or seafood. You can have them with anything you prefer such as grated cheese that goes well with most of the Italian dish and dipping bread in seasoned olive oil will turn your dish into the most delicious one. Finally the best thing about Italian food is you can store it for a long time as it keeps well and taste good even later.