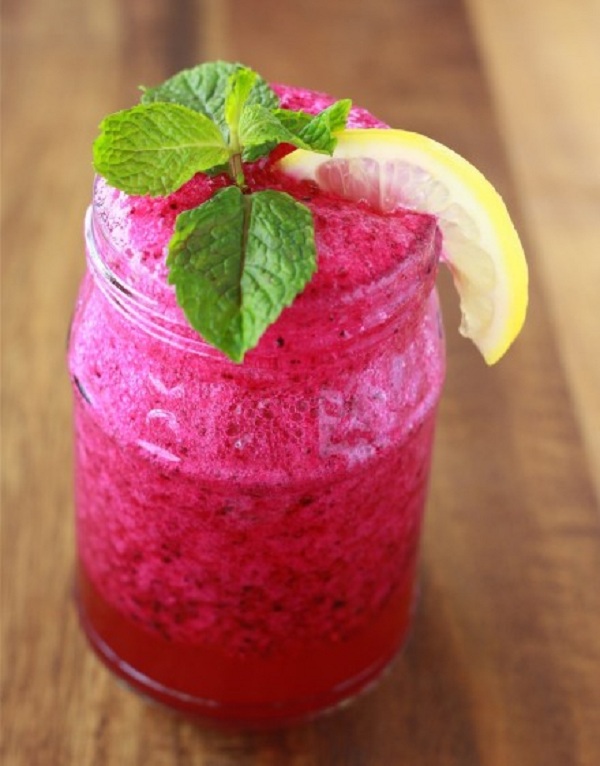 Bored of the same old cocktails? Pina Coladas, Bloody Marys, Margaritas, Martinis, all make you want to run away to someplace in search of something new? It's been quite some time since we stepped out and tried something different. Dragon Fruit Cocktails are soon picking pace as well as the bartender's attention. Many of us aren't aware of what dragon fruit really is. Dragon fruit is a fruit belonging to the cactus species cultivated mostly in Mexico, Southern America. It tastes sugary with a creamy pulp, and has soft aroma that is known to soothe the senses. Cocktails are prepared using the dragon fruit based SKYY Dragon Fruit Infusions. They give you the pure taste of dragon fruit juices blended with the awesome infusion of various other juices and alcoholic drinks that create an experience to never forget.
1. The Dragon's Cup
A strong flavored cocktail with ginger beer, agave nectar, cinnamon powder, orange bitters, and dragon fruit infusions. It is the dragon fruit counterpart of the Michelada that tastes hot, sweet and somewhat bitter.
2. Green Dragon
A cocktail that will drive you crazy. Served in shot glasses, this cocktail is definitely worth a try. Not much effort goes into it, just fruit juices and infusion make up this mind blowing drink. Lime juice, apple juice and the dragon fruit infusion is all that you need to stir up magic for your guests.
3. Puff's Magic
A fruity mix of juices is what this cocktail intends to give you. Its refreshing taste will just blow your mind. Served with fresh crushed ice cubes, this cocktail is appropriate for a mid-summer night party. Lime juice, orange curacao and tea syrup fuse an amazing taste in this cocktail.
4. Dragon Cooler
A cocktail that's truly inspired by its name. It is a cooler of sorts that chills you out completely. Lemon soda, raspberry juice, passion fruit are the ingredients that when mixed with infusion creates this masterpiece. Its sweet taste surprises you and its delicate aroma bowls you over.
5. Dragon's Kiss
This cocktail requires both true bartender expertise and bar ingredients. With a pair of skilled hands to mix Elderflower liquer along with guava puree in a champagne flute, and then diluting this potion with small amounts of Prosecco. And ordering it is definitely easier than preparing it.
6. The Dragon Cosmo
A dragon fruit cocktail with a twist. Flavored with cranberry juice, lime juice and triple sec, it's just like dragon fruit martini for some. It is even served in martini glasses. Goes down your throat and flows to your mind.
7. Tropical Dragon
A colorful juicy cocktail that is easy to prepare and is served in an eye's wink from the time of your order. The tropical dragon owes its resemblance to the dragon's color. Dragon fruit infusion mixed with pineapple juice, orange juice and lemon juice, creates a glass of unforgettable taste.
8. Dragon Lady
A cocktail with a huge fan following. The Dragon Lady is an interesting combination of triple sec along with fruit juices that tend to take the cocktail's taste to new heights and the tasters to metaphorical heaven.
9. Legend Of The Dragon
A bitter sweet dragon fruit cocktail. It is not for those who prefer to have sweet drinks. This cocktail is tanged up by maraschino juice, sugar free lemonade and lime juice. A bit different from the rest of the versions.
10. The Fruit Dragon
A cocktail with a zing. Unusual ingredients make this cocktail divine and truly worth tasting. Pomegranate juice and lychee juice make up this blockbuster cocktail.
So, enjoy these easy to make refreshing cocktails in the comfort of your home or in a plush, well-stocked bar, just let the divine ride begin!