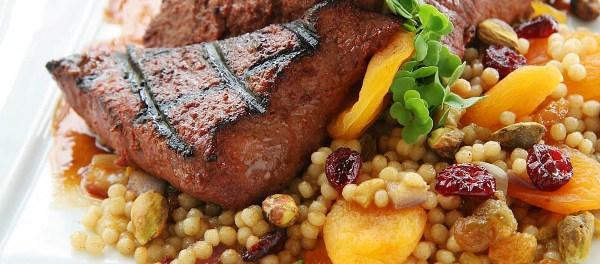 Voted as the 'Best Island' for more than 12 years by the readers of Conde Nast Treveler, Maui has divine beaches and natural grandeur along with glamorous high end resorts. Maui is posing a threat to Honolulu in its dining space. Here are some of the finest dining options in Maui:
1. Lahaina Grill
When you walk through the streets of Lahaina, the restaurant is bound to attract you. The place is causal but polished and the menu has a lots of American delicacies as well. The wild salmon filet with local tomatoes, spinach and asparagus and veal chop cooked with risotto and wild mushroom are some of the divine delicacies that the restaurant has to offer. If you have a sweet tooth then the triple berry pie with mountains of whip cream will be a feast to your palate.
2. Mala Ocean Tavern
Mala Ocean Tavern is a restaurant that is closest to the sea in Maui island. The space is more or less like an over grown shack however, it has some of the yummiest delicacies by the classic chef Mark Ellman. Wok fried fish cooked in black bean garlic sauce, steak in a combination with caramelized onions, sweet peas spiced up with ginger and other spices, lamb with grilled pita, the tapas and the super delicious flat breads with organic local tomatoes, mushrooms, and grilled fish are not to be missed.
3. Duo Restaurant
Duo is an outdoor option on the terrace above the Four Season's pool. The food is very rich and expensive. There is seafood and steak in Duo to win you over, if the prices are not a concern for you. Grilled fish is an essential item in everything in Duo, even if you order red Thai coconut curry. However, the second sea food tower is highly recommended as you will find a huge variety of fishes, lobsters, crabs, and shrimps.
4. Haliimaile General Store
Established in 1927, Chef Bev Gannon owned this place and expanded his catering business that has now turned into one of the best dining options in Hawaii. The space has a warm, plantation era feel to eat and the Chef is more than happy to mix and match the culinary styles. The toastadas with Asian spiced duck or the baby black ribs, the delicacies are a food for soul and not only for your taste-buds.
5. Mama's Fish House
Mama's fish house, opened in 1963 by Floyd and Doris Christenson is on the beach with exotic woods and a beautiful landscape. You can read in the menu the details of the Fiasherman's catch for the day, how, where, and what. After many failures and constant upgradation, mama's Fish House is now one of the best dining options in Hawaii with plenty of fresh fishes in the menu.