One of the type of dipping sauce is Thai Chili Sauce which can be eaten with any possible fast foods. The popularity behind the Thai chili sauce is that it is a taste enhancer which adds extra taste to the foods. The hot sauce is also popular for its spicy taste which gives a totally different experience to all kinds of foods. The origin of the hot sauce was in different countries of Asia. The reason of the spiciness of the sauce is to keep away cold and keep the body warm. The sauce tastes best with seafood, chicken and fish. It is often used as a side dish with different types of finger foods to increase their taste and to add spiciness. Though you can get to buy the Thai chili sauce, you can easily make the recipe in your home. Here is an easy recipe for Thai Chili Sauce which you can try out at home. The ingredients in this recipe are easily available which makes the preparation more convenient.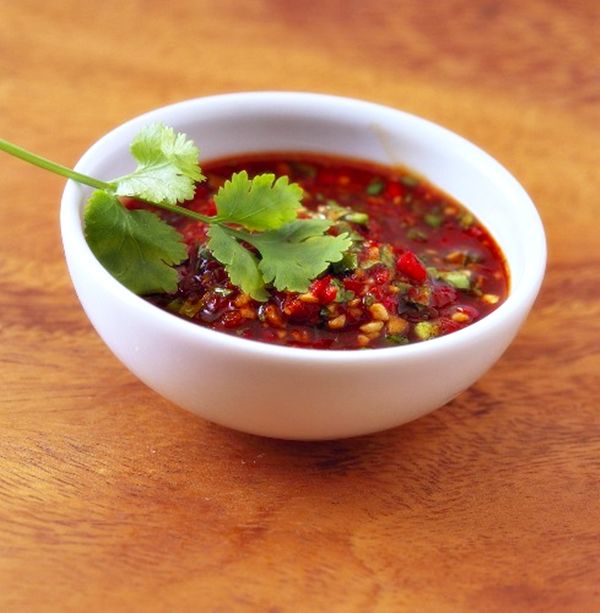 Complexity level: Moderate
Time taken: 20 minutes
Ingredients:
10 finely chopped chilies
1/2 cup rice vinegar
1 thumb of fresh ginger minced
1 cup sugar
3 minced garlic cloves
2 tablespoons chopped cilantro
1/2 teaspoon paprika
1/2 cup water
1 tablespoon Thai fish sauce
1 tablespoon lime juice
1 teaspoon salt
Process:
1. Add together the chopped chilies, vinegar, paprika, garlic and salt in a saucepan. Add water and sugar to the mixture in the saucepan and then bring it to boil. Keep in low flame until the sugar gets dissolved and the mixture begins to thicken to form a syrup.
2. To the boiling syrup, add lime juice and the fish sauce and stir well together.
3. When the syrup turns thick, pour it to a bowl. Serve it hot or store it in jars after the sauce turns cool.
Tips:
1. It is best to use starch if you are making the sauce in large amounts for storage. Starch is used as a thickener which acts as both acid and a heat stable product. The starch would help your chili sauce to remain gluey and viscous. The thickening of the sauce would increase the longevity for the entire duration of the its life.
2. It is easy to make the Thai chili sauce but it needs a good effort of your time to preserve it. The right ways to preserve the sauce keeps the flavor and aroma of the hot sauce intact till the end.