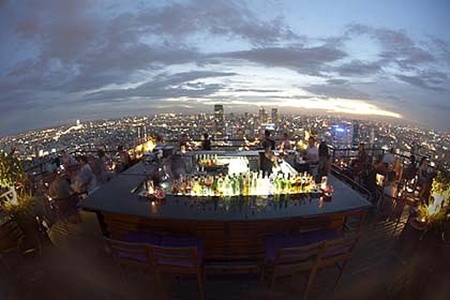 It is not easy to choose the top 10 most exquisite rooftop bars around the globe. We will reveal to you some of the available contact information and brief descriptions about the 10 elite roof top bars of the world. So if you are a party animal and you are on a hunt for some wild destination to party, then let me assure you that you are reading the right article. The entire article reflects the latest and streetwise information about the top 10 most exquisite rooftop bars.
1. Sirocco bar in Bangkok, Thailand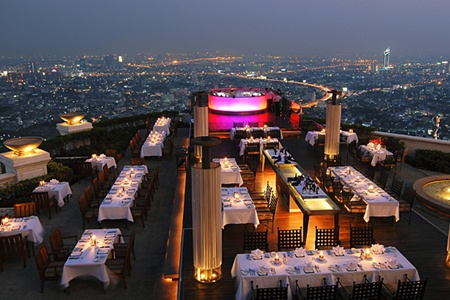 If you plan a night out in Bangkok and you do not grab a few cocktails at Sirocco, then frankly it would be quite an injustice to yourself. Sirocco offers you one of the most amazing cocktails in the entire Bangkok and beyond. This elite bar is placed right on top of a Dome of the State tower, 64 floors above the ever busy Bangkok streets. The location of this bar is an alluring rooftop which allows its visitors to have an opportunity of 360 degrees view of the entire city illuminated by wonderful lights. And after relishing the amazing view to your content, if you are in a mood for an awesome dinner, then Sirocco will not allow you to be disappointed, since they serve exquisite dinner as well.
2. The penthouse bar in Madrid, Spain
The penthouse bar is a fabulous rooftop bar which is situated on top of the Hotel Me Madrid Reina Victoria. It offers you an outstanding view of the entire hotel. It is also to be noted that this place is a favorite spot for many well-known Spanish celebrities as well.
3. The Luna bar in Kuala Lumpur, Malaysia
This super aphrodisiac rooftop bar will make you live the time of your life during your visit to this location. It is situated in Malaysia. Apart from boasting of a long indoor bar which has an exquisite design, it also offers you an outstanding view of the lights of Malaysia.
4. Rooftop bar in Melbourne
If you plan for some sunny boozing or may be some good music, then this is the place you have been looking for. The bar is located on top of the Thai restaurant "Cookie" in Melbourne. If you are planning for something romantic, then this is definitely the spot for you.
5. Gravity bar, Ireland
Though this bar is not an open air bar, but it still has a lot to offer to its visitors. It entertains its visitors with an irresistible 360 degrees view of Dublin. This is the highest bar present in Ireland and it also allows you to dine with your partner sitting right next to the glass while enjoying the amazing view from the top.
6. Top floor bar, London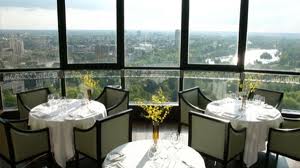 If you are on the verge of throwing a party in a classy style then this is the location for you. Yes this place is available for any swanky private parties. The bar boasts of a roof made entirely out of glass, which allows you to watch some of the most splendid views of London.
7. The moon, Las Vegas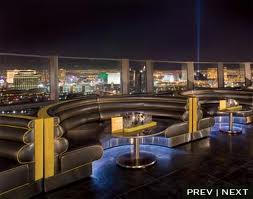 This elite bar is situated on the 53rd floor of the Palms hotel in the party destination of the world, i.e., Las Vegas. The place proudly boasts an amazing music system along with a truly charming crowd. The recommended days to visit this bar is Tuesday, Friday and Saturday.
8. Captain bar, Shanghai
If you are on a hunt for some great variety of cocktails along with some great city lights in China, then this is the spot you must check out. Locals and travelers make the place a truly lively spot for all the visitors.
9. Hudson sky terrace
This superb rooftop bar in New York has wonderful service along with an awesome hammock and a game room which is a great attraction for the young crowd.
10. Condessa bar, Mexico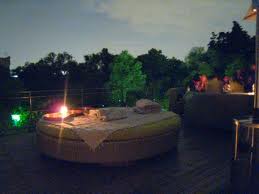 Situated in a hotel in Mexico, the bar offers an extraordinary design all over along with some superb services. One should not forget to check out the cocktails after the sun sets in Mexico.
All of these locations are truly splendid. You can choose any of them, according to your liking. Irrespective of your choice, you are sure to enjoy your time to the fullest. So go ahead and party hard.