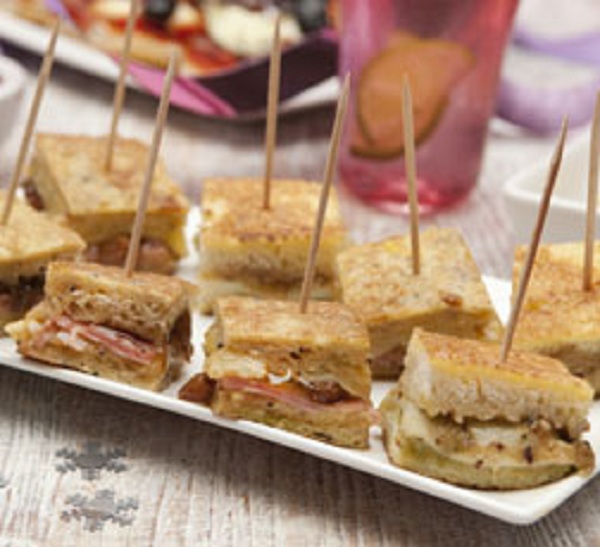 French toasts are a common item on the breakfast table in many households. According to the historians, its origin can be traced to as far back as ancient Roman empire when it was devoured as one of the sweet dishes. It is now ubiquitous and different new methods for preparing this dish have come up in recent times. Here're few simple steps that you can follow to prepare tasty French toast nibbles. You would not have to run for resources as you will find most of them already stuffed in your refrigerator. And, what more? You can surprise your guests this weekend with your culinary skills.
Complexity Level
Moderately Easy
Time Required
30 minutes
Resources Required
16 thinly cut bread slices
Soft butter or margarine
Sandwich fillings like cheese, ham and pickle
Four unboiled eggs
Four tablespoon milk
Salt
Ground black pepper
Two tablespoon oil and 25g butter
Cocktail sticks
Instructions
1. Make sandwiches from bread slices
First of all, make eight sandwiches from bread slices by spreading soft butter or margarine on them and filling with whatever ingredients you want. It can be anything like peanut butter, ham, cheese, various other meats, lettuce, tomato, pickles, bacon bits and onions.
2. Blend eggs and other ingredients

Crack the unboiled eggs in a bowl and whisk it using a fork. Then, add milk, a very small amount of salt and ground pepper and and mix it well.
3. Get the oven and frying pan ready
Start the oven and fix it at moderate heat. Put the frying pan and heat the oil with little butter into it for 1-2 minutes.
4. Fry the sandwich
Dip the sandwich in the egg mix so that a layer of the mixture gets coated on all its sides. Then, hold it to drop the excess egg mix and fry it in the pan for 3-4 minutes.
4. Cut and serve your guest
Take out sandwich from the frying pan when its color turns golden brown. Then cut it into cubes of 3 cm size and secure the nibbles with the cocktail stick and serve immediately.

Frequently Asked Questions

Q. How should I add ham or cheese in the sandwich?
A. You should divide the cheese and ham between the slices and top it with the remaining bread slices.
Q. What else can I fill in the sandwich for a better taste?
A. Additionally, you can use mozzarella, pesto and also mango chutney. You can spread the pesto on half of bread slices and mango chutney on the remaining ones. Then, put the mozzarella slices onto the pesto slices and firmly press the bread. But, don't use too much of force.
Quick Tips
1. You can also freeze the sandwiches by packing it in an airtight container inside the refrigerator for three months. For reusing, defrost the sandwiches and prepare the recipe as discussed above.
2. Remove the bread crust before frying. You can use it for feeding birds or preparing bread crumbs.
3. Serve the nibbles along with sauce or any other chutney of your choice.
Things To Watch Out For
1. Try not to fill the sandwich with the salad ingredients like tomatoes or lettuce as they become soggy after some time and also do not freeze well.
2. Always keep the temperature of the oven moderate.