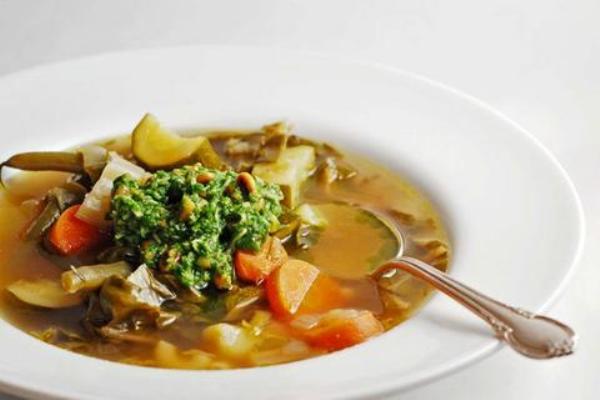 Soups are favorite appetizers and come in two variants- clear soup and thick soup. Every soup has a hidden recipe of mixed vegetables, herbs, sauces and seasonings. The world swears by the different types of soups available. The Chinese have their hot, sweet and spicy soups, while the French have their own consomme. Talking of soups, there's one soup that is a meal for many as it is so delicious. Soup Au Pistou or the French Green vegetable soup. It is the eighth wonder of the world and after running through dust piles of cookbooks, finally found its' recipe. Truly, the French were culinary experts who created a storm out of a stone. Try this recipe out.
Complexity level
Easy
Time taken
20 minutes
Ingredients
1. 3 tablespoons extra-virgin olive oil
2. 1 medium sized onion, diced
3. 6 cloves garlic, finely minced
4. 2 medium zucchini, diced
5. 2 medium potatoes, chopped
6. 2 tomatoes, deskinned, deseeded, and diced
7. 1 liter vegetable or chicken stock
8. 1 heaped tablespoon mixed herbs powder
9. 1 cup canned cannellini beans, drained
10. 2 cups canned red kidney beans, drained
11. 1 cup green beans, cut into 1-inch pieces
12. 1/2 cup spaghetti, broken into pieces
13. 2 cups finely grated cheese (preferably Gouda or Parmesan)
14. 1 teaspoon coarse sea salt and freshly ground black pepper for seasoning
Pistou Ingredients
1. 3 medium garlic cloves
2. A sprig of basil leaves
3. 4 tablespoons extra-virgin olive oil
Process
1. Heat the extra virgin olive oil in a medium saucepan. Add the diced onion, garlic, and zucchini and cook on medium heat for a while, until the vegetables turn golden. Now add the potatoes, tomatoes, chicken or vegetable stock, and the mixed herbs powder. Bring this mixture to a boil, then cover it with a lid and simmer the heat gently for 10 minutes.
2. Uncover and check if the mixture is boiling. Then add the cannellini and kidney beans and simmer again, and cook covered for another 15 minutes. Add on the seasonings. Add the dried green beans and the spaghetti and cook for another 10 minutes, until the pasta is cooked al dente. Cover and let it stand for 2 minutes.
3. To make the pistou, add the garlic, basil leaves, and olive oil in a blender and blend until a mixture forms. You can also make it using a grinder, to grind the ingredients. Whichever way you prefer having it. The taste won't differ much.
4. To serve, heat the soup and add a dash of the pistou and grated cheese, and stir a bit. Serve hot garnished with a sprig of thyme.
Tips
1. Do not overcook the pasta or it will become sticky.
2. Add the pistou and grated cheese to the soup only when you are ready to serve it.