What is it?
Carambola, also known as star fruit, is a small shrub in the wood sorrel family (Oxalidaceae) which has five very prominent ridges. Entitled as 'Yang Tao' in Chinese, the fruit shares great reputation in Chinese Lin Nan Area for its diversified benefits. The fruit features unique ridges and transverse section which appears as a five-pointed star – thereby deriving its name. When ripe, the Carambola turns mostly bright yellow in color with light tinges of green. The peel of the fruit is generally thin and the pulp quite crisp and juicy.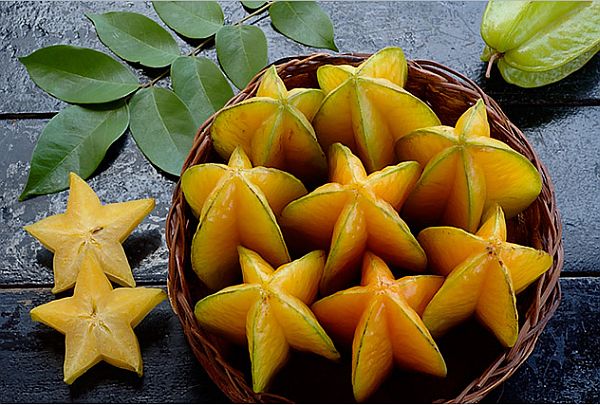 Since the fruit contains high levels of oxalic acid, the taste of the fruit contributes to its sourness. Often, the juice is used to get rid of stains from clothing – owing to the included oxalic acid. Classified in the division of Magnoliophyta, Carambola has also been revered for people with weight problems. To notify, there are three species of star fruit in Guangzhou out of which the star fruit from Fang Cun district of Guangzhou is the most famous one.
How we know it?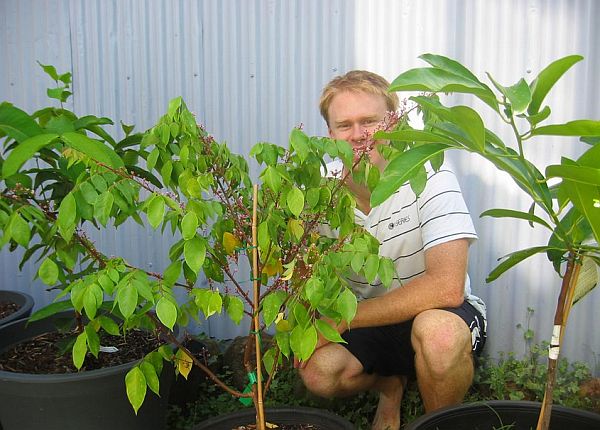 Believed to have been originated in Ceylon and Moluccas, the Carambola has been cultivated in Southeast Asia and Malaysia for many centuries. The fruit normally becomes matured in the provinces of Fukien, Kuangtung and Kuangsi in Southern China, in Taiwan and India. In fact, Carambola is more well-known across the Philippines and Queensland, Australia, and reasonably so in some of the South Pacific islands, particularly Tahiti, New Caledonia and Netherlands New Guinea, and in Guam and Hawaii.
Quite interestingly, the fruit was first introduced into Southern Florida before the year 1887 and was looked upon mainly as a curiosity. However, the fruit has certainly evolved today and has been used as conversation pieces to beautify gift shipments of citrus fruits. Its shipments go mainly to Vancouver, Quebec, Cleveland and Disneyworld. Small amounts are sold locally.
What's cool?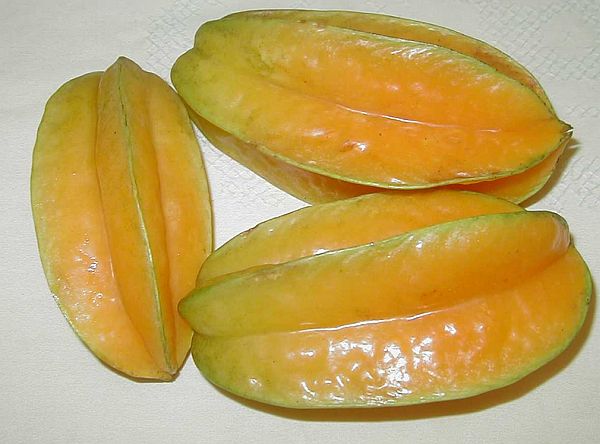 The Carambola or star fruit astounds with being low in calories, carbohydrates and fat – emerging as a water-rich fruit for weight control. Also, the fruit's pulp features soluble fiber which makes eases the constipation problems significantly. Considered as a natural laxative, the fruit also catches attention for endowing the potential to remove stains from clothing.
How healthy?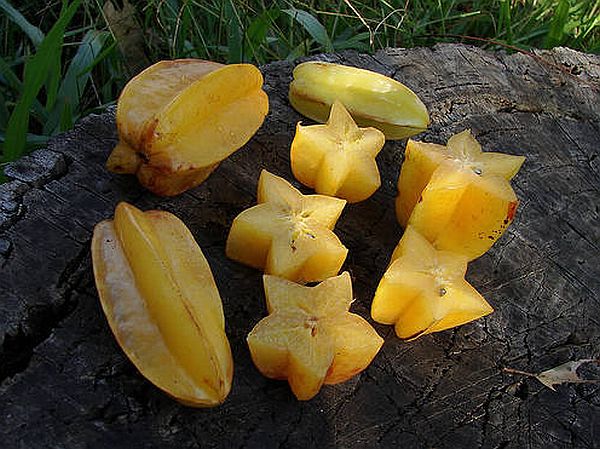 The Carambola can be considered as a great cure for people who haven diagnosed with hypertension, diabetes and heart and blood vessel disorders. The fruit contains a good amount of Vitamin A and C and can potently lower the risk of numerous diseases like cardiovascular disease and others. At the same time, it's also healthy for people who have constipation problems and want to lose their weight. However, people with kidney stones should avoid this fruit since it contains a high content of calcium oxalate – which can worsen the condition.
Quick tips
1: Combine Carambola and sugar in food processor, and process 1 minute or until smooth.
2. Strain the mixture through a sieve into a bowl, reserving 1-¼ cups juice; cover and chill.
3. Discard solids.
4. Add club soda to Carambola juice; stir gently.
5. Pour over ice