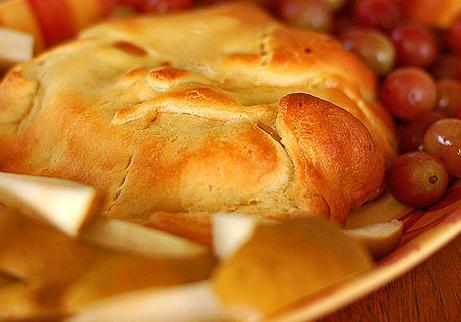 If you are looking forward to a forthcoming get together or potluck, then here is a recipe of baked apple brie that will surprise your guests and you will get appreciation and accolades from them. Brie is a soft cheese made from cow's milk. The outer layer of brie is white. Although it is famous throughout the world, its origin is in France. Brie is the name of a city in France, so basically brie is a French cheese. Baked apple brie recipe is a sweet and salty combination of sweet baked apple and hot softened salty cheese. This is a great starter dish for your upcoming get together, birthday party or potluck.
Complexity level: Easy
Time taken: 15 minutes
Ingredients
One large apple cut into slim wedges
Almonds for garnishing (optional)
1 round of brie
1 tablespoon brown sugar
Bread
2 tablespoons of maple syrup
Process
Preheat your oven at a temperature of 375 degrees. Put the brie on an ovenproof dish. Place the slim wedges of apple all over the brie (cheese). Now spread the brie and apples along with brown sugar and sprinkle maple syrup on top of it.
Put the serving plate (ovenproof) inside the oven and bake the brie and apples for about 10-12 minutes. Take out the plate and check whether the apples have become pleasantly soft and the cheese has melted completely. Now your baked apple brie is ready to serve. You can garnish the apple brie with almonds and serve it hot with bread. This recipe will serve six to eight people.
Tips
If you don't have maple syrup, you can use honey instead of it. For garnishing, you can also use chopped pecans or walnuts. Don't take out the rind from the brie (cheese) as it is also edible.