When it comes to the culinary culture of the United States of America, crab cakes are an institution in their own right. Usually accompanied with an ice-cold beer, crab cakes are served simply though their favor belies their history as "a dish born of the plentiful bounty of seafood along the American east coast". An American classic, the dish can be served at posh formal events as well as busy weeknight dinners with the family!
---
Preparation time: 20 minutes
Cooking time: 5 minutes
Yield: 4 servings
Ingredients
Crabmeat (cartilage removed and flaked) 12 ounces
Seasoned and divided bread crumbs 1 cup
Lightly beaten egg 1
Green onions (finely chopped) 1/4 cup
Sweet red pepper (finely chopped) 1/4 cup
Mayonnaise (reduced-fat) 1/4 cup
Lemon juice 1 tablespoon
Garlic powder 1/2 teaspoon
Cayenne pepper 1/8 teaspoon
Butter 1 tablespoon
Salt To taste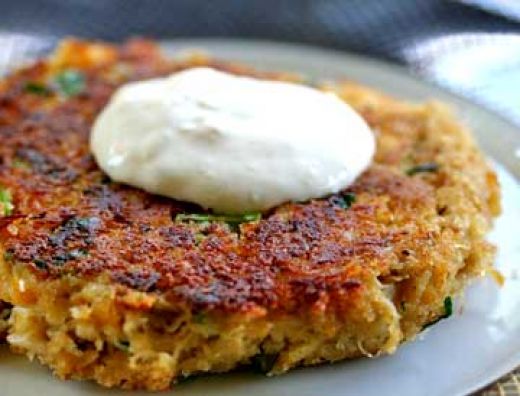 Preparation
In a large bowl, lightly beat the mayonnaise and egg. To the mixture, add the onions, half of the breadcrumbs, crabmeat, red pepper, cayenne pepper, garlic powder, salt and lemon juice. Combine the ingredients well and divide the mixture into eight equal portions. Wash and dry hands and lightly grease palms before rolling each crabmeat mixture portion into a round ball. Layer a dish with the remaining breadcrumbs and roll the crabmeat mixture balls in them till they are thickly coated. Flatten the balls into a half inch thick patty and pat down in the breadcrumbs once again. Heat a large skillet over medium high heat and add butter to it. Before the butter browns, add the crabmeat patties to the skillet and cook on each side for roughly 3-5 minutes or until golden brown. If you like your crabcakes to have some extra crunch, you can brown them a bit more as well.
Tips
Crabcakes are best served with a chilled beer or a light white wine like Pinot Grigio or Sauvignon Blanc.