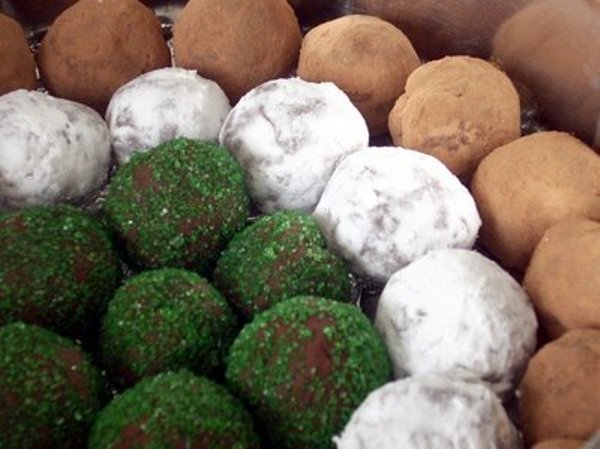 Introduction:
Chocolate sure is a woman's best friend as well as her worst enemy. When chocolate is available in low fat options, its even more irresistible than it usually is. Here is a simple recipe to make delicious low fat truffles in the comfort of your home. By substituting just a few ingredients, the fat content is reduced considerably while the taste is just as delicious.
Complexity level: Moderate
Time taken: One and a half hour
Ingredients:
Semi-sweet chocolate chips -1/3 cup
Softened light cream cheese- 4 ounces
Cocoa powder- 1/3 cup
Confectioner's sugar- 1.5 cups
Process:
Place the chocolate chips in a microwave glass bowl and melt them for one minute with uniform heat. Stop heating once they have melted completely. Stir the melted chips continuously until they appear smooth. Now, beat the light cream cheese using an electric mixer until it becomes smooth. This makes your truffle spongier and light. To this, add the previously melted chocolate and stir until the mixture becomes smooth and creamy. It is important that the cheese and the chocolate be mixed completely. Add required amount of cocoa powder. The mixture will be crumbly initially but on continuous blending, it yields uniform dough. Once completely blended, add the sugar. Do not add the sugar all at once; make it gradual and allow no lumps to be formed. Again, beat the dough until smooth and creamy. Once all the ingredients have been properly mixed, roll the dough into balls of appropriate size (roughly with a diameter of 1 inch). To give the final flavor, these balls can be dipped in bowls containing cocoa powder or confectioner's sugar. Place these balls in a baking sheet. For smooth removal, line the sheet with wax paper. Chill this for a minimum of an hour. If they become too firm after chilling, place them in room temperature for about 20 minutes. Enjoy your own homemade low fat chocolate truffle.
Tips:
Be sure to use light cream cheese and not heavy one.
Ensure that you use cups of the same size to take the measurements.