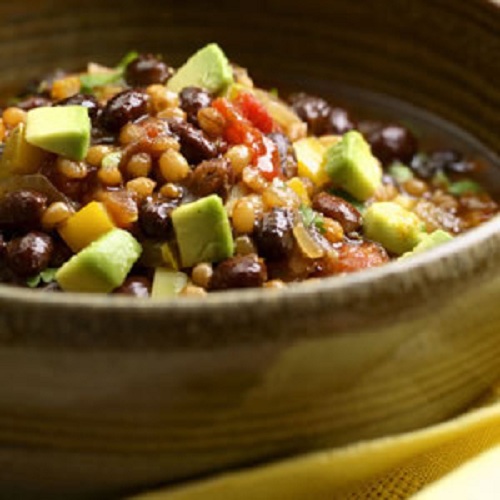 A spicy dish that will make tears flow out of your eyes. An out and out chili dish, the hearty Chili with Black Beans is an authentic recipe that has its roots in the southwestern region i.e. the cuisine is mostly influenced by Spanish and Latin cuisine. Many people have jugged the southwestern region cuisine with the Mexican cuisine and named it Tex-Mex i.e. Texas and Mexican influenced cuisine that is gradually finding the voice of a lot of people. The Hearty Chili with Black Beans is one such recipe that will find votes from many spicy food lovers. But taste it only if you are strong enough to digest the hot chili.
Complexity level: Easy
Time taken: 40 minutes
Ingredients:
1 tablespoon extra-virgin olive oil
1 pound lean beef, grounded
3 medium sized garlic cloves, peeled and minced finely
2 small sized onions or shallots, chopped finely
3 fresh celery stalks, chopped coarsely
1 large sized green bell pepper, shredded
1 large sized red bell pepper, shredded
1 large sized yellow bell pepper, shredded
1/2 cup tomato puree
1 medium can tomatoes, diced
1 medium can black beans, cleansed well
1 medium can red kidney beans, cleansed well
1 large can yellow sweet corn with the syrup
a pinch of salt for seasoning
3 heaped tablespoons red chili powder
1 tablespoon cumin seed
a pinch of dried oregano for flavoring
1/2 teaspoon cayenne pepper
2 tablespoon molasses
Process
1. Pour olive oil in a large skillet and heat oil on medium heat till bubbles appear. Add the minced garlic cloves and roast till they change color. Now add the onions and saute till they turn golden brown. After the onions are cooked add ground beef, and shredded red, yellow and green bell peppers. Cook stirring the beef continuously till the beef starts extracting juices. Cook covered with a lid for a while, say for about 6 minutes till the juices dry up or until the beef changes color.
2. Uncover and add the sweet corn with the syrup and cook till it softens. Now add the spices one by one. Firstly add in red chili powder, then add salt, cumin seeds, cayene pepper and dried oregano. Reduce heat and add in the red and black kidney beans, diced tomatoes, tomato puree, molasses and bring them to a boil. Simmer and cook for another 10 minutes.
3. Cook until the chili gravy thickens and finally add the celery stalks. Serve hot with garlic bread or tortilla chips.
Tips
1. While cooking the beef, take care not to overcook it as instead of becoming soft it may become hard.
2. Instead of molasses, you can also add sugar, if you want.