Chile is world famous for producing and exporting splendid wine flavors all across the globe. Chilean wines are basically made by fermenting fruit juices usually grapes. In the middle of the 19th century French wine like Cabernet Sauvignon and Merlot were introduced and since then the exports of wine grew very rapidly as the quality of the production of wines improved. Chile is the fifth largest exporter and ninth largest producer of wines in the world. There are around 271,000 vineyards in this country. Fifty miles north of Santiago is the Aconcagua Valley, which is a small and dry region, world famous for producing Cabernet Sauvignon wine. To the south of Casablanca and south west of Santiago lies Maipo Valley which is the oldest wine making region in the country and has got around 15,000 acres of vineyards.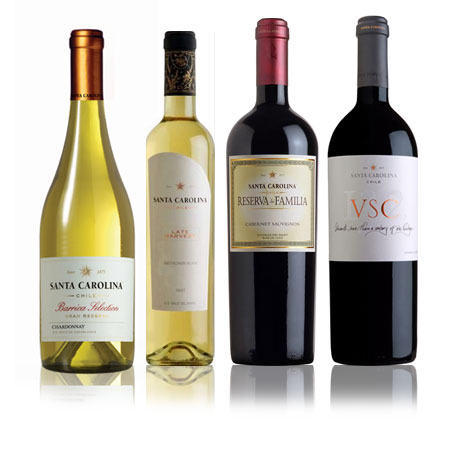 The Maule region is about 160 miles away from Santiago and produces rich varieties of wine, so you will find plenty of Sauvignon Blanc, Chardonnay, Cabernet Sauvignon, and Merlot. Chile is still having several thousands of hectares that could be converted into Vineyards. Various Chilean manufacturers are following a quality track to produce world class wines. Given below is the list of the best Chilean wines.
1. Agustinos Gran Reserva 2007 Pinot noir
It is produced in Bio Bio Valley. It is a red wine with sweet and delicate aroma. It is made from the Pinot Noir Grape. This wine has received 90 out of 100 given by Robert Parker. It tastes good.
2. Almaviva
This wine is produced as a result of the partnership between Baron Philippe de Rothschild and Vina Concha y Toro. Maipo Valley is the region where it is produced. Robert Parker and Wine Spectator gave a rating of 95 out of 100 to Almaviva 2005.
3. Anakena ONA Syrah
Dark purple in color, this wine presents aroma of red fruits like cherry. It has originated from Chile's Rapel Valley and became famous in past few years. Anakena ONA Pinot Noir 2010 got a Gold Medal in the year 2011.
4. Antiyal and Kuyen
These are the definitive autumn wines. Antiyal is made by blending Carmenere, Cabernet Sauvignon and Syrah. These two wines have been produced by the renowned Chilean wine producer Alvaro Espinoza from Antiyal's Maipo Vineyard. Their popularity could be estimated from the fact that these wines were offered at a legendary awards dinner in London.
5. Casa Lapostolle Clos Apalta 2005
This wine was pretty famous in 2005 and 2006. Wine spectator magazine declared it as its wine of the year. It has a long finish and is full of abundant fruit flavors. This wine got 93 points from the Wine spectator.
6. Concha y Toro Don Melchor Cabernet Sauvignon
This wine has been rated over and again as one of the best wines of Chile. This is the most excessively awarded wine of Chile. Wine Spectator and Robert Parker named this wine as the most excellent wine.
7. Concha y Toro Terrunyo 2005 Cabernet Sauvignon
This wine comes in exciting flavors like seasoned raspberry, cassis and blackberry. It is a red wine with beautiful deep red color. This wine has also won many awards.
8. Concha y Toro Carmin de Peumo 2005 Carmenere
This ultimate wine presents a beautiful blend of red and violet shade. Here is something that Robert Parker speaks about this wine "The Carmin de Peumo is the winery flagship and a candidate for Chile's finest wine." It was chosen as the best Chilean Carmenere and listed as one of the 100 best wines of the year by Wine & Spirits.
9. Errazuriz Don Maximiano 2006
This wine is a delicious blend of Cabernet sauvignon, Cabernet Franc, Petit Verdot and Shiraz. It earned 90 plus points for the years 2005, 2006 and 2007. This wine is quite strong and looks beautiful with a mix of ruby red and bright purplish color. Vina Errazuriz has been producing the highest quality of Chilean wines for more than 130 years.
The above mentioned Chileans wines have been ranked quite high in the International competitions. During the Berlin Wine Testing of 2004, some Europeans blind tested each of the eight top wines from France, Italy and Chile. As expected, the 1st and the 2nd position were grabbed by Cabernet based reds from Chile. These wines are also available at many other places in the world so you can relish them without having to travel so far.