Crispy noodles with chicken and some gravy – a divine combination that takes a jiffy to prepare! This local Chinese dish takes mere 20 minutes to prepare and serve. Here's a recipe for this savory delight.
The Noodles
You can get any type of noodle for the recipe such as dried egg noodles, fresh thin egg noodles or crunchychowmeinnoodles from the local Asian grocery store for authentic taste. If you are watching the calories, then take a look at the calorie value of the noodles before picking it. It's better not to go for high calorie noodles, as calorie value will be increased after adding the toppings.
Blanch the noodles in boiling salt water for 2-3 minutes until it is mildly tender. Drain the noodles completely and set aside. Heat a frying pan on high flames for few minutes, and add 1 ½ tablespoons of groundnut oil. Evenly spread the noodles over the pan base and turn the heat low. Allow the noodles to gently fry for 4-5 minutes or until crisp and golden brown on the bottom.
The Chicken
Cut about 150gm chicken into bite size pieces. Marinade chicken pieces in a mixture of 1 ½ tablespoon of light soy sauce, ¼ tsp corn starch, 1 egg white and a dash of white pepper. Set aside the marinade chicken for 15 minutes.
The Sauce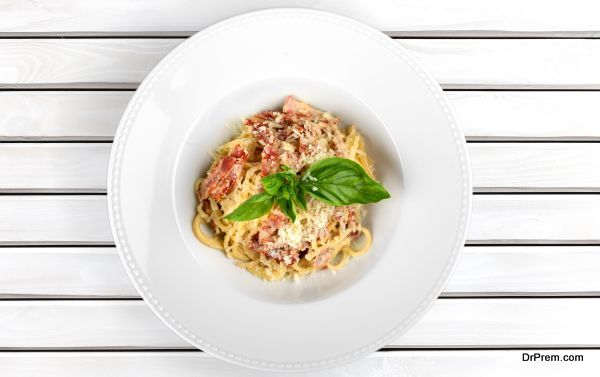 For the sauce, mix 3 tablespoons corn flour and 3 tablespoons water till there are no lumps. Mix it with ¾ cup chicken stock, ¾ cup water, 2 tablespoons oyster sauce, and 2 tablespoons light soy sauce and 1 tsp sugar.
Stir Fry
For the stir frying, heat 1tablespoon peanut oil in a wok over high heat, add 3minced garlic cloves and fry for 10-15 seconds until the fragrance erupts. Add the chicken marinade and stir fry it for 30 seconds. Now add 1 diagonally sliced carrot, 2 shallots cut in 5cm pieces, 1 cup finely chopped spring onions, 1 cup shredded cabbage and 1 cup bean sprouts. Fry all these ingredients for 30 seconds. Add the sauce into the wok and gently stir it till all ingredients are coated with the sauce. Turn off the heat and let the residual heat wilt the vegetables.
The Dish
Place the stir fry over the noodles and serve immediately. You can garnish it with some chopped spring onions. The quantity will serve two.
This quick recipe will take only 2 minutes to prepare and serve. You can cook it anytime you feel like having some delicious Chinese cuisine at home.