Name of the dish: Cheese puffs
Cheese puffs (Gougeres) are French savory made from choux pastry and cheese. Bite sized French savory is a perfect blend of ever loving cheddar, parmesen and gruyere cheese. It is a fabulous appetizer and pairs well with wine and beer. It can be made even tastier by filling it with ham, tuna or chicken salad along with more cheese.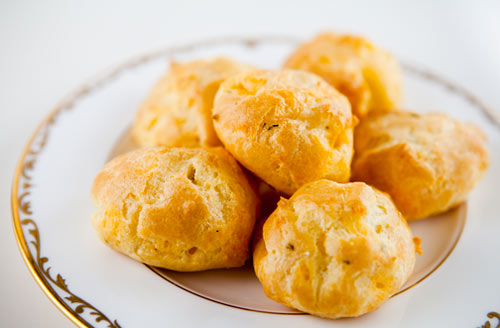 Complexity level: Easy
Time taken: 55 min (preparation time: 8 to 10 min and cooking time: 45 min)
Ingredients
1 stick butter (1/2 cup)
1 cup water
1 cup all purpose flour
5 eggs
1/2 tsp dry ground mustard ( optional)
1-1/2 cups shredded cheese – sharp cheddar, parmesan and/or gruyere
2 teaspoons chopped fresh thyme (or rosemary)
1/2 tsp freshly ground pepper
Salt accordingly
Process
Preheat the oven to 425 F.
Heat the saucepan on medium flame, boil the water and add butter with a pinch of salt.
Once the butter melts and starts to boil, quickly add the flour and start stirring. Stir thoroughly using the wooden spoon until butter and flour forms a ball of dough without sticking to the pan. Cook for a couple of minutes.
Remove the pan from heat. Let it cool to warm.
Start adding egg one by one. Make sure egg is completely mixed each time.
Add fresh thyme, pepper and required salt.
Finally, add the lovely shredded cheese. Mix it thoroughly to smooth and thick dough.
Grease the baking sheets with butter. Spoon the dough directly into the baking sheets one inch apart or can spoon it into pastry bag fitted with large plain tip and pipe it to molds.
For additional flavor sprinkle coarse salt, finely shredded cheese/grounded pepper. Bake it for 30 min until puffs turn into golden. For getting drier puff reduce the heat to 350 F and cook for another 10 min.
Serve warm.
Tips
You can also use food processor with steel blade to mix egg, cheese and dough to ensure mixing is smooth and complete.