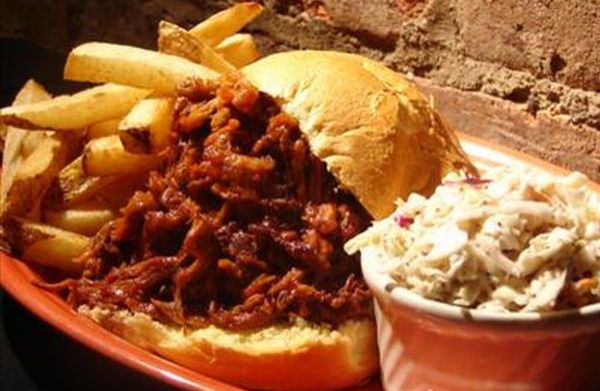 This appetizing and scrumptious recipe is derived from North Carolina. Traditionally, the pork is slowly cooked and smoked on a low temperature for quite a long time. It is named 'pulled pork' because at the end of the cooking, the meat is so tender that it starts melting in your mouth smoothly. By tradition, there is no short cut to this recipe. But, the time taken to prepare this mouth watering recipe is worth it. It tastes so delicious and divine that your taste buds would desire more and more of it. Let's have a look at this yummy recipe:
Complexity: Medium
Time taken: 14 hours
Ingredients:
1. 14 pounds untrimmed pork shoulder with skin
2. One cup Dijon mustard
3. Two tablespoons kosher salt
4. One tablespoon onion powder
5. Two tablespoons fresh crushed pepper
6. Two tablespoons dark brown sugar
7. One tablespoon sweet paprika
8. Around fifty hardwood charcoal briquettes
9. Eight cups water soaked small hardwood smoking chips
10. Eastern Carolina sauce or its substitutes, for serving
Process:
1. Preheat the oven to 275 degrees. Take a medium bowl, blend the mustard, kosher salt, grounded pepper, brown sugar, sweet paprika and onion powder. Now, place the pork shoulder with its fat side facing upward on a disposable aluminum roasting tray. Brush well the mustard mixture over the pork. Roast the pork uncovered for continuous 12 hours till the meat becomes extremely tender.
2. When done with roasting, slightly tilt the tray and collect all the meat juices in an average sized bowl. Now, refrigerate the juices for around half an hour and skim the fat before using it.
3. In the meantime, fire 10 charcoal briquettes. When the briquettes get hot, put the remaining 40 briquettes over them. After all of them become smoking hot, position six cups of water soaked wood chips around the coal briquettes. Now, put a roasting pan on the grill grate over the arranged set of coal and wood chips. Place the pork on the grill grate, and cover it with air vents partially opened and smoke the meat for around 30 minutes.
4. Gently remove the grill grate and pork and whip the coals for few moments. Spread the remaining cups of wood chips over the coal briquettes. Put back the grill grate and pork over it. Cover and smoke for 30 more minutes.
5. Finally, transfer the roasted and smoked pork to a platter and let it rest for half an hour. Pull away the tender meat and throw away the gristle, bones, fat and skin from the pork. Using your fingers or a fork, mince the meat and shift to a larger bowl. Drip over the refrigerated meat juices and toss well. Serve it with Carolina sauce or any barbecue sauces.