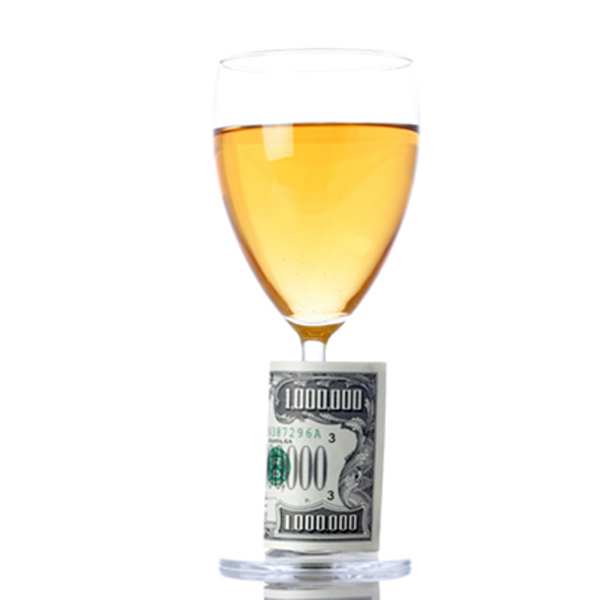 Budget drinking wines are becoming popular in today's social circles. A combination of powerful white, red, and sparkling wines rated best by the critics across fall under the category of budget drinking. The following are 12 such exquisite budget wines, the best the money can buy for less than $12.
1. Santa Digna Cabernet Sauvignon (2005)
Cabernet Sauvignon is one of the most exquisite varieties of red wine grape on the planet. Santa Diana is an elegant cabernet with a twist of cassis and blackberries. A wine from the liquor store rather than the classics with high end appreciation is rare. This wine compliments best with steak and chicken salads.
Price $10
2. Bellingham Shiraz (2005)
Bellingham Shiraz belongs to the coastal regions of South Africa, the heart of historical South African wines. Shiraz is a northern Rhone blend, a soul of making top class Australian wines especially Victoria. A ruby colored Shiraz with a hint of berries and a spicy tone is well preferred.
Price $ 11
3. Gnarly Head Cabernet Sauvignon (2006)
Gnarly Head belongs to the wine regions of California. It is made with cabernet Sauvignon, the most famous red wine grape in the world revealed recently in 1997. The wine is deep garnet red in color with a long smooth finish. It blends the flavors of cedar, vanilla, blackberries with an cigar box on the nose.
Price $ 9
4. Cookoothama Chardonnay (2006)
Cookoothama Chardonnay is a sudden blow up of freshness. It has a deep golden color, very smooth with vanilla, spice, honey roasted nuts enriched with buttercream aromas. This gives a creamy fruit hint on the palette. Cookoothama is an old school style, alcoholic wine with loads of everything.
Price $ 12
5. La Vieille Ferme Cotes du Ventoux (2007)
La Vieille Ferme comes from the vineyards of Mount Ventoux, one of the best vineyards in the Rhone valley. It is a blend of Grenache, Syrah grapes, and Cinesault forming a very distinctive and delightful character. It is a famous, most inexpensive straightforward Rhone wine for the French wine lovers.
Price $ 10
6. Cono Sur Viognier (2008)
Cono Sur Viognier is a beautiful deep color viognier (white wine grape) with a crisp finish. It has apricot, melon with a subtle hint of spice. A beautiful expression crafted skillfully by the Cono Sur team. Works wonders with Thai cuisine.
Price $ 10
7. Freixenet Cordon Negro Cava Brut
Freixenet, the makers, are the largest producer of sparkling wines in the world. Cordon Negro Cava Brut NV is one the best selling sparkling wines superbly crafted in a stylish black bottle. It is known for its cherry and yellow apple aroma with a light lemon custard essence. This wine is dry due to the Brut Cava, crisp and lean in fruit flavors.
Price $ 11
8. Riesling Clos du Bois (2007)
Clos du Bois Riesling is a semi-sweet wine from the vineyards of California. It is dry, crisp with essential notes of pear, jasmine, and white peach. It has the characteristics of apple and citric acids. It compliments best with Indian and Thai cuisine and other spicy food.
Price $ 12
9. Rolling Estate Shiraz (2005)
Rolling Estate Shiraz, from the vineyards of Australia has a deep opaque red color. It has the notes of blueberry pie, blackberry jam, and wild cherries. The background of sweet licorice and hints of spice are noticeable. Rolling estate has crushed bramble fruit emanating with an oak character.
Price $ 10
10. Altos Las Hormigas Mendoza (2007)
Altos Las Hormigas is a very well known vinery which belongs to the Mendoza wine region, the largest wine region in Argentina responsible for producing country's 70 percent of wine. Malbec is a variety of black grape which was once very popular with the Bordeaox. It is dry with average tannins. The flavor is of plums, black cherry and licorice with an earthly finish.
Price $ 11
11. Ruffino Libaio Toscana Chardonnay (2007)
Ruffino "Libaio" Toscana IGT Chardonnay belongs to Tuscany (Toscana), the most famous wine region of Italy. Chardonnay is, no doubt, the most famous white wine grape with its birth in Burgundy, France. The "Libaio" is a white wine made by Ruffino. A Still wine type and a definite critic's favorite.
Price $ 9
12.Two Vines Columbia Crest (2005)
Merlot-Cabernet 2005 is a red wine from the Columbia valley vineyards in the Washington estate. The fruits and tannins compliment the acids perfectly. The Merlot-Cabernet blend has berries, compost, green tea and tobacco scents and flavors Columbia Crest "Two Vines" is a powerful wine with a 75% Merlot and 25% Cabernet and a lingering finish.
Price $ 11