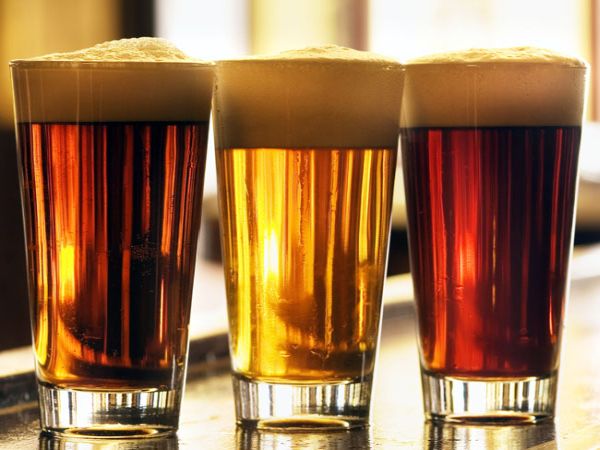 If your birthday is approaching and you want to surprise your friends while they are planning a surprise party for you, I have an idea. How interesting it would be if you could brew beer at home? It is an easy process and it is better than what you can get in a liquor shop. You can become popular and adorable among your friends and relatives if you serve them by preparing it yourself. A home brewed beer is always a better option if you have enough time to prepare it. It is also economical when you want to give it a try in your own micro brewery. Pull your socks and get ready to brew your own beer.
Complexity Level
Hard
Time taken
Approximately two weeks
Resources required
A Brew Pot
A kitchen strainer
A kitchen thermometer
A large funnel
A rolling pin for crushing
3 Gallon container of bottled water
A Bottling container
3 feet of 3/8″ clear poly-vinyl tubing – to siphon and ferment
Bottles
3 lbs light dried malt extract
8 oz crushed crystal malt
1 oz Northern Brewer pellet hops
1 pkg brewers yeast
3/8 cup sugar for bottling
Preparation
Step 1
Take a large plastic bag and put in roughly 8 ounces of crystal malt. Using the rolling pin, crush the grain. Remember, we simply want a coarse texture of broken grains and not something like flour so don't use too much pressure while doing this.
Step 2
Drill a hole in the cap of the container. Since we're using a 3/8" wide poly-vinyl tube, drill the hole of that size and give the air-lock a snug fit. This lets the carbon dioxide, produced during fermentation, escape but without letting the outside air in.
Step 3
The next step is called 'Steeping'. This is the process of extracting essence of our crystal malt. For this, take 2 1/2 gallons of water from the water bottle and pour it into the brew pot (be sure to leave some space from its top). Add the crushed grains to it. Heat the pot up to 150-155 degrees. Then turn off the heat and place a cover on the pot. Keep it in that state for about a half hour. Then strain it. For straining you can use the strainer or even use a cotton bag.
Step 4
This is the most important step of brewing. Boil the liquid. Remove it from the burner and add the malt extract and stir. Heat it again and boil it. Always remember do not over boil it. Then remove it from the burner and stir it in the malt extract. Boil it again. This is the point where you are at the risk of boiling over. After boiling for sometime add two-third (2/3) oz of hop pellets. Continue to boil for around another hour. This brings out the bitterness of the hops. After an hour, take it off the heat and add the last of the hops. At this point, you have produced non-fermented beer, also called as 'Wort'.
Step 5
Whatever comes in contact with the wort must be sanitized; else anything tiny & living can destroy your wort and make it undesirable. Sanitize everything, the strainers, funnels, containers, etc.
Step 6
Now the next step will be to cool the wort. The more quickly the wort cools, the better. You can partly immerse the brew pot in a tub (and add some ice for a much cooler temperature) of cold water.
Step 7
Once cooled, pour the wort into the sanitized 3 gallon container. And now, to pitch in the yeast (brewing term for adding yeast to the wort). Place the container (cap in place, fitted with the air-lock) in a dark and cool place. It needn't be pitch-dark and sunlight is a strict no. This is when the fermentation begins and it's best to leave it like that for about 7-10 days.
Step 8
After the fermentation, Beer is ready but it's flat. It needs 'priming'. This means you have to add sugar just before bottling it. The live yeast will convert the sugars into carbon dioxide.
Step 9
Boil 1/4 cup plus 2 tablespoons of sugar in 1 cup of water for 5 minutes. Let it cool in a large container (like a large bucket) and then siphon your beer to that container. Be careful to not to disturb any sediment that's settled at the bottom. Now, your beer is primed and ready for bottling.
Step 10
Pour the beer to a bottle and store it for about a week. Your beer is ready.
Frequently asked questions
Q. Is there a set time period for home brewing?
A. No, there isn't any set period. The brewing time mostly depends on the style of beer you choose. The brewing time can range anywhere from two weeks to several months.
Quick Tips
The ingredients you use should be fresh.
Use sterilized vessels in the process.
You should cool wort as soon as possible.
Use glass as fermenting vessel and control the temperature while fermentation.
Things to watch out for
For sanitization regular bleach can be used which is also used for household.
Make sure you do not use wood spoon as stirrer.
Temperature is very important and should be kept in mind while fermentation.