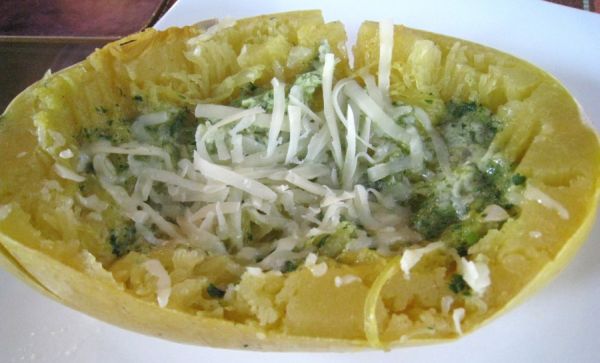 Squash is grown all over the world and is popular in many East European countries. Squash (green and yellow) have thin, soft seeds and are high in vitamin A and C. The flesh contains a lot of water, sweet, and mild flavor. For best flavor and fast cooking of squash vegetable choose small squash and their seeds can be scooped out easily. Basically Indian squash is brown or slightly green from outside while the cover is quick thick and yellowish from inside with lots of seeds.
Complexity level: Moderate
Time taken: 1 hour 50 min
Ingredients
a. 1 Small spaghetti squash
b. Butter
c. 2 Cloves garlic
d. Chopped tomatoes
e. Mint leaves (pudina)
f. Salt to taste, pepper
g. Chillies to cut in lengthwise
h. Parmesan cheese.
Process
1. Preheat oven to 190c.
2. After preheat cut Indian squash into 2 part and bake for 60 minutes (1 hour).
3. Let squash vegetable be cool for 10 minutes.
4. Remove baked Indian squash.Let it cool, then open the squash and remove out the seeds slowly. then scrape the squash with the help of fork . It should be slightly crunch like the shape of spaghetti. If the Indian squash (specially green or brown cover)seem which is difficult to scrape, then again bake for 10 minutes.
5. Heat the deep fry pan at low medium. After heating, add 3 tablespoon of butter.
6. Add 1 small cup of chopped garlic for better taste.
7. When garlic becomes light brown then add 1 cup of chopped tomatoes and mix with garlic. Since tomatoes make the taste little bit sweet and tangy.
8. Add chopped mint leaves for good fragrance. As we know mint leaves is healthy to digestive system. It is better to use in varieties of dishes.
9. Add salt, pepper, chillies for taste.
10. Put Indian spaghetti squash into the deep fry pan mix with the mixture.
11. Add or sprinkle parmesan cheese into it for additional salt taste and cook for 3 minutes.
12. Finally garnished with chopped coriander leaves.
Tips
In case you don't have microwave at home, use steamer and add 4 to 5 pieces of Indian squash into it and heat for 1 hour or more than that, check during heat time so that it could remove like spaghetti squash and should be crunch.
You can also use more butter instead of cheese. We can also add boiled potatoes with temperature of 75 degree into this dish. Boiled potatoes may be crushed like spaghetti with the help of vegetable chopper. It will make more delicious who loves to potatoes. We can also use basil instead of mint leave both have good flavor.
Finally baked Indian spaghetti squash with garlic and butter is prepared and ready to serve and eat.