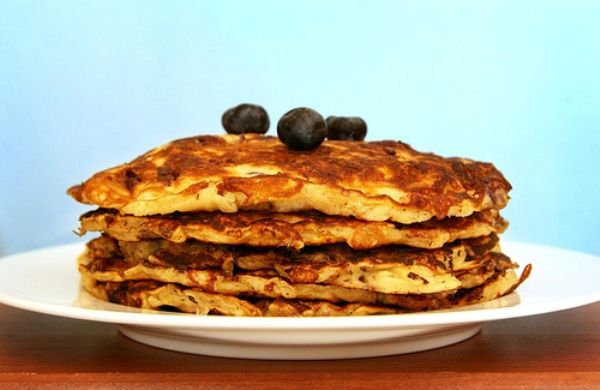 Pancakes are very popular and merrily loved not only by kids but also by people of all ages. You can discover a huge variety and types, when we talk of pancakes. It varies on the basis of fruit, nut or flavor we add to it during the cooking process. Though its not as easy as cooking an omelette in breakfast, but efforts applied to the cooking process of these pancakes are definitely worth. Here we are making blueberry pancakes specifically, but, you can anytime substitute blueberries with bananas transforming it into a banana pancake or with walnut making it a walnut pancake, as simple as it sounds. Follow the procedure mentioned and enjoy your self-made yummy pancakes.
Difficulty level: Moderate (requires basic knowledge).
Time required
Preparation time: 10 minutes
Required cooking time: 15 minutes
Total time: 25 minutes
Ingredients Required
| Ingredients | Quantity |
| --- | --- |
| Sugar | 3/4 cup |
| Salt | 1 teaspoon |
| Eggs | 6 large and separated |
| All purpose flour | 4 cups |
| Whole milk | 3 cups |
| Melted unsalted butter | 12 tablespoons |
| Unmelted unsalted butter(for the pan) | 2 teaspoons |
| Baking powder | 1 tablespoon + 1 tspn |
| Vanilla extract | 1 teaspoon |
| Confectioner's sugar | 1/2 cup |
| Maple butter | to taste |
| Blueberries | 2 + 1/2 cup |
Procedure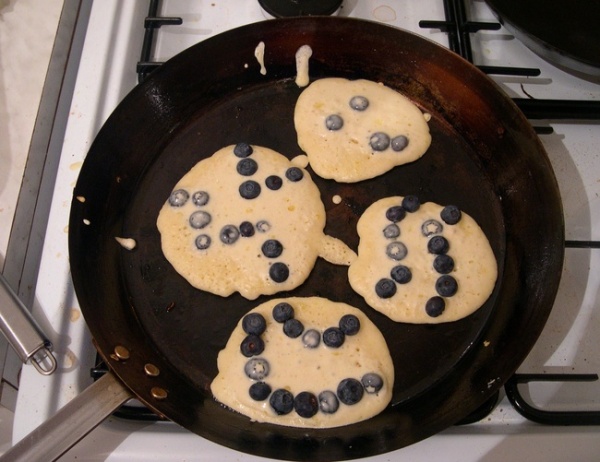 Before starting, keep in mind that you do not have to mix the batter more than required, else it can form gluten not letting the batter remain soft.
After measuring all the ingredients, sieve baking powder, flour, salt and sugar in a not so small mixing bowl.
Take another bowl in which you'll be whisking vanilla extract, melted butter, milk and egg yolk till they bind. You can notice slight lumps which show the semi final stage of batter.
Now very carefully whip the egg whites in a bow, either with a manual hand blender or an electric blender, not whipping it more than required i.e it should have soft center.
Very properly fold half of this whipped material into the lumpy batter we prepared and mix it gently. Repeatedly, add the second half of the material and mix it up softly. Be very careful that this new mixture is again a lumpy mixture, i.e noticeable parts of egg whites should be still present. This mixture can be refrigerated for few hours only.
Take a big pan and heat it between 360 and 375 F. Thereafter grease it with the unmelted butter we took(only to grease the pan). Now remember, around 3 to 4 tablespoons of our batter makes 1 pancake. So, pour this in the pan, in order to shape it in a desirable cake sheet. Repeat it based on the number of cake sheets, size of your pan can hold. Add, around 1 tablespoon blueberries to every sheet. This stage is the deciding stage for the type of pancake you require.
If you start noticing bubble on the surface of pancakes, your pancakes are ready to be checked. A golden brown surface at the bottom and crispiness at the edges indicates the need to flip them.
After flipping, using a spatula, gently remove the pancakes from the pan, once they are golden brown from other side too. Finally, garnish these yummy cakes with the confectioner's sugar and serve them in a classy plate.Your blueberry pancakes are ready to be served.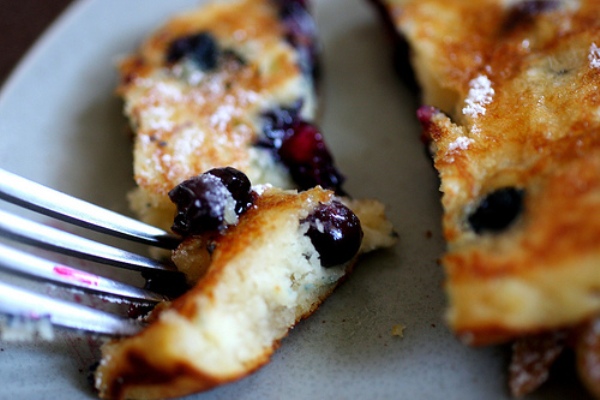 Frequently asked questions
Q What else can be used to garnish these pancakes to enhance the taste?
Ans You can also use honey as a garnishing material, just pour in small quantity of it not spoiling its presentation look, It tastes delicious!
Q If blueberries are substituted by bananas, is there a need to make any changes in the cooking style or garnishing?
Ans In cooking style, absolutely not, but while garnishing you can substitute confectioner's sugar by cinnamon sugar, it combines pretty well with banana flavor!
Tips
1. Wait for some time when you put the pan to heat, it should be heated properly, else the first shift of pancakes can be tough and unexpected.
2. You can serve these pancakes with blueberry sauce, in fact you can use this sauce for garnishing.
3. Use a beautiful plate to serve on, presentation in food matters a lot.
Things to watch out
Do not put butter on the pan till its heated enough, else you may mess up with your first shift of pancakes.
Do not allow the yolk to enter the whites, it can affect the batter badly.