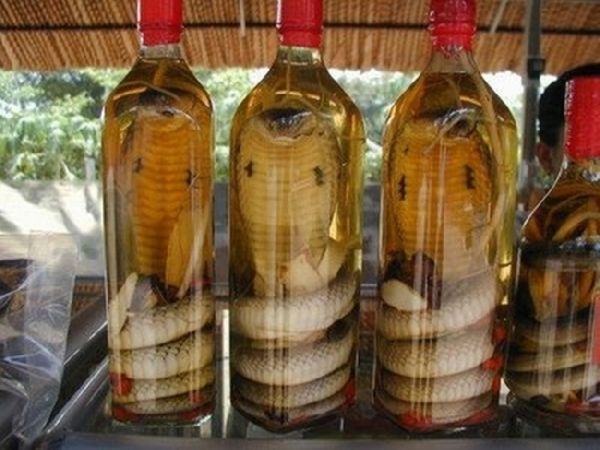 The Origin: Vietnam
The cuisine
There are different varieties of wines available in the world. Some unconventional ones like snake wine might leave you a little baffled but be sure of experiencing a unique flavor by trying out snake wine. Snake wine is a twisted version of alcohol. It is produced by infusing snakes in grain alcohol or in rice wine. The drink was earlier used for curative purposes. Venomous snakes are used for making this wine. The essence as well as the poison of the snakes gets dissolved into the liquor. The venom of the snakes is later denatured by ethanol. Snake wine is available in two main varieties – steep and mixed.
The steeped wine is prepared by placing a snake and medicinal herbs in a glass jar of wine which is eventually allowed to steep for months. The steeped snake wine is consumed as restorative as shots or simply in cups. On the other hand, mixed snake wine is prepared by mixing body fluids of snakes and is consumed instantly. Snake wine import is banned in many countries and it is difficult to find snake wine easily. It is extremely essential that the quality of wine is not compromised upon. Snake wine is a perfect gift for special occasions and a great addition to your home's personal bar.
The wacky tinge
Snake wine can be commonly found around in Vietnam and parts of South-East Asia and it has a wacky tinge to it. The peculiar taste of snake wine makes it all the more alluring to people who are always excited to take a sip of the much famous snake wine. Wine lovers around the world readily try snake wine whenever it is available. The health benefits offered by snake wine make it all the more appealing to try at least once.

Ingredients
Some peculiar ingredients are used to make snake wine. The main ingredients of snake wine are cheap ginseng, rice, some herbs and deadly creatures like scorpions and venomous snakes like cobras which are combined with grain alcohol or rice wine. Sometimes the snakes and other ingredients are allowed to steep for months in alcohol before the wine is actually consumed.
On the other hand, the snake wine is quickly consumed by pouring snake fluids like blood into rice wine or grain alcohol. Different methods are used for making different types of snake wines, one can choose wine as per individual's taste and liking. The ingredients of snake wine play a major role in creation of perfect taste. It is generally consumed as shots due to its strong flavor.
Process
The process of making snake wine is not as difficult as it may sound. Depending on the variety, snake wine is prepared in different methods. The most common method of making snake wine is that of blended wine. Serious wine lovers like to prepare snake wine by themselves, this ways they ensure that the quality of the wine is outstanding and also relish the experience. The ingredients of snake wine are not too difficult to find. Once all the ingredients are gathered, the process is initiated.
A venomous snake is first killed. The head and tail of the snake is chopped off and its innards are removed. The body of the snake is cleaned with alcohol solution. The next step is to place the snake into the glass bottle which is corked. The heart of the snake is placed in the jar. The bottle is filled with wine and herbs. This mixture is allowed to ferment for three months time and then served in cups or as shots. The wine can be garnished with scorpions and lizards.
Health benefits
Snake wine offers numerous health benefits and it was thus extremely popular as a curative drink in earlier times. The fact that snakes possess medicinal qualities is known since ancient times. The snake wine is known to prove beneficial in curing diseases like hair loss and farsightedness. Besides it is also believed that snake wine can increase sexual performance by acting like a natural aphrodisiac.
Over the period of time it tends to improve health. Serious health problems like rheumatism, back pain, lumbago, etc can be treated with consumption of snake wine. Snake wine is perfect in the chilly winter season as it tends to keep the body warm and comforted. Serious alcohol enthusiasts can indulge in snake wine which offers peculiarly amazing taste and numerous health benefits.