A Simnel Cake is the traditional two-layered light fruit cake that is made for Laetare Sunday, the middle Sunday of Lent that is also nicknamed Simnel Sunday, Sunday of the Five Loaves, Mothering Sunday and Refreshment Sunday in the UK, Ireland and other neighboring countries. Developed in medieval England, the cake is topped with eleven or twelve marzipan balls to represent Jesus and the twelve apostles excluding of course the notorious Judas. Here is an easy to follow but traditional take on the classic Easter recipe.
---
Prep time: 1 hour
Cooking time: 2 Hours
Servings: 10-12
Type: Fruit cake
Course: Dessert
Place of origin: UK
Ingredients
For the cake layers
Butter or margarine 175gms
Brown sugar 175gms
Beaten eggs 3 free-range
Plain flour 175gms
Salt a pinch
Ground mixed spice ½ tsp (optional)
Sultanas, currants and mixed raisins 350gms
Chopped mixed peel 55gms
Grated lemon zest ½
Apricot jam 2 tbsp
For the almond paste
Caster sugar 250gms
Ground almonds 250gms
Beaten eggs 2
Almond essence 1 tsp
For the glazing
Beaten egg 1 free-range
Preparation
For the cake
Combine sugar and butter together till fluffy and pale and beat in eggs. In another bowl, soft flour, mixed spice and salt together and fold in the egg, sugar and butter mix. Stir in grated lemon zest, peel and mixed dried fruit. Pour the mix into a lined and greased 7 inch cake tin and bake in a preheated oven at 140C or 275F for around 1 and ¾ hours. Remove from oven and allow to cool.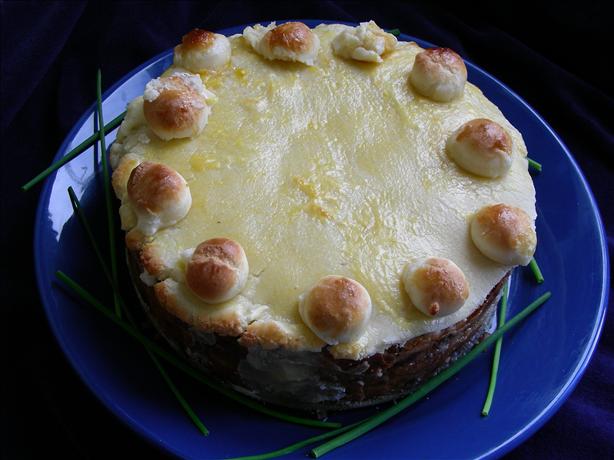 For the almond paste
In a bowl, combine ground almonds, sugar and beaten egg and mix till soft. Add almond essence and knead till smooth. Use the paste to roll out two 7 inch diameter circles and use the rest to make 11 or 12 small balls.
Decorating and finishing the cake
When cooled, cut the cake into two evenly thick circles. Brush the tops of both cake circles with apricot jam. Place the almond cake circle on the bottom half of the cake and place the other half of the cake on top. Place the second almost paste circle on top of it. Set the almond paste balls around the edges of the cake and glaze with lightly beaten egg. Place the decorated cake in preheated oven and grill on high for 1-2 minutes till the top begins to brown a bit.