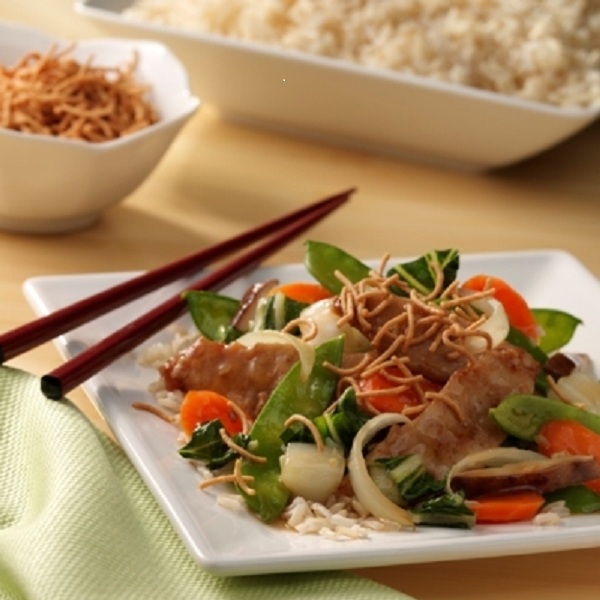 Unless cooking is all what you like and it is your favorite hobby, it gets really annoying to spend hours over preparing dinner, especially if you are in-charge of preparing dinner on a regular basis. Often, during this entire process, you end up serving your loved ones food that lacks nutritional value. So, if we were to tell you that you can prepare dinner in a matter of just thirty minutes, how would you feel? Isn't that inspiring enough? What it also implies, is that you will be able to spend more time in other activities and still be able to enjoy a highly nutritious dinner with your family.
Remember, the key to preparing a good dinner is to add lots of whole grains, vegetables, beans and fish and lean meat along with some poultry items. After all, you want them to have food that not only tastes good but is equally nutritious. However, this does not mean that you have to complicate and prolong the cooking sessions either. Here are a couple of 30-minute recipes that you can easily serve for dinner. Take a look and try them at home:
1. Low Fat Macaroni and Cheese Recipe
There is nothing like having macaroni and cheese for dinner. But remember, this dish should contain less amounts of saturated fat and cholesterol and so you will have to use cottage cheese that contains low fat, cheddar and ricotta. This dish is specially designed for people who are suffering from diabetes.
Resources Required
3/4 cup(s) milk-should be fat-free evaporated, 1 cup(s) low fat cottage cheese, 1/2 cup(s) low-fat ricotta, 1/2 cup(s) low fat cheese, cheddar, 1/2 teaspoon nutmeg (ground), 1 dash(es) salt and black pepper as per taste, 1 teaspoon cheese, Parmesan, 1 tablespoon fine and dried bread crumbs, 1 pounds pasta, cooked elbow macaroni.
How to prepare
1. Heat the oven beforehand to about 350 degrees. Next, pour milk in a saucepan and heat it over low heat. Now add the cheese and keep stirring till the cheese melts completely.
2. Add pepper, salt and nutmeg and continue stirring. After sometime, remove it from flame and keep it aside. Add some pasta (cooked) to the cheese sauce and then mix it properly.
3. Pour this mixture into a casserole. Sprinkle some bread crumbs and Parmesan cheese and cook in the oven for 15-20 minutes till the top becomes brown and starts bubbling.
Your dish is ready to serve. Enjoy with salad.
2. Salsa, Black Bean, and Rice Salad
This dish is completely nutritious. While the black bean in it provides protein to your body, the long grain rice supplies it with fiber. It also contains a number of vegetables and since it also includes dairy products, your body acquires calcium that is necessary for strengthening the bones. This dish is prepared using fat-free sour cream and pepper jack cheese, which implies that you end up enjoying balanced nutrition. It contains no saturated fat, has 42 grams of carbohydrates and nine grams of protein. You also have the option of adding green onions, cilantro and salsa to this dish to add more flavor and color.
Ingredients
2 cup(s) long grain rice-chilled and cooked, 1 can(s) black beans, (15 ounces), 2 cup(s) chopped tomatoes, 1 cup(s) red bell pepper(s) chopped, 1 cup(s) corn – whole kernel frozen and thawed, 2 scallion(s) (green onions), slice them into thin pieces, 2 tablespoon cilantro, 1 cup(s) salsa, 4 ounce(s) cheese (Monterey Pepper Jack) with jalapeno chili peppers, cut these chilies into 1/4-inch cubes, lettuce leaves, 1/2 cup(s) sour cream, light or fat-free
Preparation
1. Take a large sized bowl and stir the rice, tomatoes, black beans, green onions, pepper, cilantro and corn together. Now add salsa sauce and then toss to coat. If you want you can stir in cheese as well.
2. In order to serve, you can place salad bowls or even use plates with lettuce leaves and then top it with mixture of rice and serve with sour cream.
3. Adobo Pork Chops Recipe
Lean meat is liked by one and all. Not only is it nutritious but tastes good after preparation. So, this special dish, popularly known as Adobo Pork Chops is a perfect recipe to be served during dinner time. Again, remember the key to preparing this dish is to reduce the fat content in it. You will have to prepare a marinade that contains brown sugar, cilantro, juice of orange and cumin to add flavor to this dish. In order to prepare this dish, remember to marinate the meat for at least two hours in advance. You can also serve a baked potato and steamed vegetables to make your meal more enjoyable.
Ingredients
6 pork, preferably boneless top loin chops cut 3/4-inch thick, two tablespoon brown sugar, two tablespoon olive oil, two tablespoon juice of orange, two tablespoon cilantro, one tablespoon vinegar, red wine or cider vinegar, one teaspoon cumin (grounded), two teaspoon chili powder, 1/2 teaspoon salt, one teaspoon dried oregano, 1/4 teaspoon pepper, 1/4 teaspoon cinnamon (grounded), three cloves of garlic (mince them).
How to Prepare
1. The first step is to extract fat from the chops. Now put them in a plastic bag and set the chops in a shallow dish.
2. In order to prepare the marinade – take a small bowl and put orange juice, combine brown sugar, cilantro, oil, chili powder, vinegar, oregano, cumin, salt, pepper, garlic and cinnamon. Now pour this marinade over the chop and seal the bag.
3. Now put the chops in the fridge for at least two hours or up to twenty four hours. Keep turning the bag after regular intervals.
4. Drain the chops by discarding the marinade. Put the chops on a rack of a grill that is uncovered and is lying over medium coals. Grill for about 12 to 15 minutes or till the time chops are done and juice starts running clear.
4. Vegetable Pita Pizzas
If you prepare pizza for dinner, then each and every member of your family will show up at the dinner table. So, why not prepare Vegetable Pita Pizzas for dinner. For this particular recipe, you will have to use whole-wheat pita bread that supplies fiber to your body and a whole lot of fresh vegetables that are very nutritious and healthy. If you don't want too much fat, then opt for shredded low-fat mozzarella cheese. This dish is full of calcium and protein. To spice up your dinner you can prepare a chopped vegetable salad and serve them together.
Ingredients
Two large pita made of whole-wheat, 1/2 cup(s) assorted vegetables (you can use broccoli, red sweet pepper strips, cauliflower, mushrooms and/ carrot), cooking spray, 1/4 cup(s) shredded mozzarella cheese and 1/4 cup(s) pizza sauce.
How to Prepare
1. Begin by preheating your oven to 400°F. Now put pita bread rounds on sheet used for baking and bake for about five minutes.
2. While the pita is getting baked, you can coat small skillet that has not been heated with cooking spray.
3. Preheat the skillet over medium heat. Now put some vegetables and cook and stir them until they become tender and crisp.
4. In the end, spread pizza sauce on pita bread rounds. Sprinkle the cooked vegetable and put some cheese on it. Bake the pizza for a good 8 to 10 minutes till the time it turns light brown. Your pizza is ready.
5. Chicken Creole Recipe
How about serving your family a recipe of Chicken Creole? Everyone, especially foodies, love chicken. So serve this wonderful dish that also contains canned tomatoes, celery and peppers and win your family members over. You will also have to add garlic, basil, onions and salsa to this dish and serve it with rice or whole-wheat pasta and vegetables to tease their taste buds.
Ingredients
Four medium chicken breast halves. You will have to skin and bone them and cut them into 1-inch strips, 1/2 cup chopped celery, 1 cup chili sauce, 14 ounces tomatoes (whole, cut up and canned), 1 1/2 cups of chopped pepper, 1/4 cup chopped onions, two cloves of garlic (mince them), 1 tablespoon fresh basil or even 1 tsp dried will do, one tablespoon fresh parsley fresh (You can also use 1 tsp dried parsley), 1/4 teaspoon crushed red pepper, 1/4 teaspoon mild salsa, low-sodium chili sauce.
Preparation
1. Begin by spraying a skillet with a spray coating and then keep a pan for preheating over high heat.
2. Now cook the chicken in hot skillet. Keep stirring for at least 3-5 minutes, or till the time it is no longer pink. Now reduce heat.
3. The next step is to add tomato juice, chili sauce that contains low-sodium, celery, green pepper, onion, basil, garlic, parsley, pepper as well as salt. Boil all of this together and then reduce heat and allow it to simmer by covering it for at least ten minutes.
4. Now serve along with hot cooked rice or pasta.
6. Asian Noodle Salad and Vegetable Stir-Fry
If you are looking to offer a complete meal to your family then prepare Asian Noodle Salad and Asian Vegetable Stir-Fry. This marvelous dish consists of healthy items such as mushrooms, fresh pea pods, dry roasted peanuts and bean sprouts. You will also have to use hoisin sauce, sesame oil and ginger to enjoy the oriental flavors. This dish does not contain any cholesterol at all.
Asian Noodle Salad Recipe
Ingredients
Eight ounces of noodles, four ounces of fresh pea pods- Cut them into thin strips, two tablespoon sesame oil, one tablespoon peanut oil, two tablespoon soy sauce, two tablespoon vinegar, rice wine, 1/2 ounces dried mushrooms-Soak them in warm water for at least fifteen minutes and then drain and slice them, two tablespoon nuts, one small carrot-slice them into thin pieces, two onions-cut them diagonally with tops, one cup of sprout beans, dry and roasted peanuts.
How to Prepare
1. First cook the noodles and then thirty seconds before the noodles get cooked add pea pods in order to blanch. Now drain the pea pods and noodles.
2. Now mix peanut oil and sesame oil in a small bowl.
3. Take another bowl (small-sized), and combine vinegar and soy sauce and add two tablespoons of the oil mixture.
4. Now put the noodles in a large sized bowl and mix the remaining mixture of oil into the noodles. Next add pea pods, mushrooms, onions, carrot as well as bean sprouts. Following this, add soy sauce and toss properly and sprinkle some nuts (chopped) and serve it either cold or hot.
Asian Vegetable Stir-Fry Recipe
Ingredients
Two tablespoon hoisin sauce, low fat sodium, one tablespoon soy sauce, 1/2 teaspoon cornstarch, one whole pepper-minced, one pounds asparagus, three cups of sugar snap, peas-trimmed, 1 1/2 cups of pepper strips, three whole green onion-chopped, two teaspoon oil, dark sesame, fresh peeled and minced, two teaspoon ginger,1/4 teaspoon salt, three cloves garlic-minced, 1/4 cup(s) fresh and chopped cilantro.
How to Prepare
1. Put all the first four ingredients in a small sized bowl and then keep it aside. Now snap off ends of asparagus and cut them into three-inch piece and put them in a large-sized bowl. Now add bell pepper, onions and peas.
2. Next, heat oil in a large nonstick skillet and add salt, ginger, garlic and stir fry it for thirty second. Now add vegetable mixture and stir fry for another three minutes.
3. The next step is to add hoisin sauce mixture and stir fry for about 1 to 2 minutes or till the time the vegetables become tender and crisp and then remove them from heat and put some cilantro and stir it properly. Your vegetable stir fry is ready.