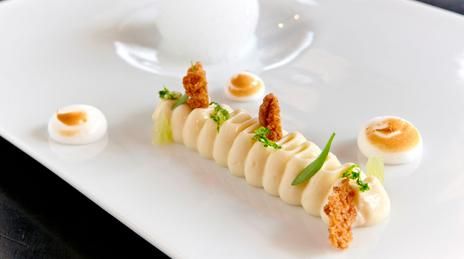 Washington DC, apart from the White House and terrific architecture, boasts off some great restaurants. Most of the famous eating places in Washington DC have refreshing menu options. The place has dining options for all pocket sizes. Here is a list of the most famous dinding places. Read on and make a note of it when you head for Washington DC.
1. Cityzen
For Eric Ziebold, the chef behind Cityzen, it all started in the Mandarin Oriental hotel in 2004. Being a veteran in a French laundry in Napa Valley to an exotic chef in Washington DC, the chef prepares exquisite dishes comprising of Japanese style raw hiramasa or Kingfish and extending to other wide varieties like a rabbit covered in a thin and crisp coat of potato and even some enticing vegetarian dishes. The restaurant is designed by Tony Chi and the setting of soothing colors and lighting goes marvelously with the food that is served.
2. Inn at Little Washington
This one is rightly categorized as the high end restaurant given the hefty price tags the dishes carry. But it is a truly memorable experience as you don't get this royal setup at many places. The ambiance is just magical with beautiful paintings, decorative seats, thick carpets and a very romantic environment. This thirty-year old beauty sits elegantly in the Virginia countryside, honored by Chef Patrick O'Connell who was a theatre student. For starters, the waiter serves Lilliputian hors d'oeuvres, which you might savor as much as you like. The dinner is in multiple courses and includes some scrumptious dishes like crab cakes sandwiched with fried green tomatoes, minced squab, mushrooms, and local peanuts heaped in a cool lettuce cup, and a chocolate-robed cake with pistachio and white-chocolate ice-creams on the inside. And what is delightful is that you can ask for a kitchen tour and a man with a robe will gladly walk you in.
3. Michel Richard Citronelle
The artistic food master, Michel Richard is an inspiration for thousands of chefs across the world. He is professional as well as playful in the manner he presents food. The French chef experiments with anything and with such perfection! The entertaining part of the subterranean restaurant is the glass-enclosed kitchen and the wall that changes color every few minutes, called the 'mood wall'.
4. Restaurant Eve
The man behind this restaurant is an Irish native, Cathal Armstrong, who indulges in honoring his favorite farmers in the chef's tasting room with delectable inspired dishes or modern American dishes. To name some, the chef creates Humble tripe braised with citrus zest and served with house-made lamb sausage or we can mention common gnocchi tucked in warm spinach and ripe tomato. Wonderful service nurtured by Meshelle, Armstrong's wife, the restaurant looks gracious with pictures of fruits and vegetables are lovely cocktail service.
5. Amsterdam Falafel Shop
This place is good for lunch, dinner or even a late-night snack as it is open till 4 a.m. on Fridays and Saturdays. Here is what it has to offer – mashed chickpeas spiked with garlic, coriander, and cumin, rolled into little balls, and fried to a light crunch. These beauties are then slipped into warm pita and jazzed up with myriad toppings – turmeric-tinged cabbage and jalapeño-fueled herb sauce are particularly delicious options. This one just accepts cash.
6. Jaleo
Chef José Andrés is the star behind this Tapas ruler. Something for everyone, this food joint is as fulfilling as it gets. Only $10 a plate, you get variety of tapas. Disciple of the Spanish wizard Ferran Andria of El Bulli, the chef satisfies the appetite of everyone who visits Jaleo. Not to miss, Wednesday nights see Flamenco dancers along with this delightful menu.
7. Kotobuki
Located on the second story, this simple yet delectable Japanese restaurant presents sushi, delicate flounder, and sea urchins. With his self-made soy sauce, Chef Hisao Abe wins hearts by presenting Kamameshi, which is a delicious rice casserole prepared with a choice of chicken, vegetables, or eel. This restaurant is also easy on pocket so go and grab a bite at:
8. Nhu Lan
Here you get 'banh mi' or the Vietnamese submarine sandwiches that are filled with all the good ingredients and yet costs just $2.50 a sub. It is basically a toasted baguette spread with mayonnaise, piled with pickled vegetables, cilantro, and your choice of meat. A recommended stuffing would be pork meatballs, minced onions, garlic, celery, hint of sweetness, and jalapeño. This family-run joint sure is doing well by selling 1500 and more banh mi per weekend.
9. Brasserie Beck
Robert Wiedmaier, the chef-owner of the former Marcel's, introduces this Belgian bistro that is comfortable and interesting and offers a large variety of food, including mussels and frites, shrimp croquettes, beef stew and a wide variety of brews. Some more intriguing Brussels food offers chicken and duck livers marinated in Cognac and enriched with clarified butter. You can watch the flames in the kitchen through its glass walls and the chef has big clocks to display the time of some of his favorite places.
10. Central Michel Richard
Equaling the level of his Citronelle, Michel Richard's Central is as delightful a visit. Coming up with more comfort food, this place offers hanger steak with frites, cooked salmon with lentils, duck rillettes with a faux gras terrine along with puree of chicken liver and butter. Topping all this can be mentioned the lobster burger. I am already imagining all this in my mouth. So let me catch you up at:
11. Hook
"The aim is to sell the flavor of the fish", that's what the twenty-year old Chef Barton Seaver has to say. Bluefish, weakfish, and mackerel are some of the unique variety of fish that can be found in Hook's palette. Entrées like linguine and clams prepared with sauce made from whipped milk flavored with bay leaf and coriander seed are available. Another popular delicacy is the grilled shrimp served with grits that have been cooked in smoke-infused water, a by-product of smoking salmon. With subtle colored walls yet brightly lit, this restaurant also has a great wine list to offer, which surely adds to its glory.
12. Rasika
This will be known as a historic restaurant in the coming times as it has been visited by Bill Clinton and Maureen Dowd. Chef Vikram Sunderam and ideas contributed by Ashok Bajaj make this a fine dine option for DC residents. The open kitchen and a sommelier (to help you match the appropriate wine with your food) are some unique restaurant features. This one serves Indian cuisine in a different way.
13. Comet Ping Pong
Unlike other pizza parlors, Comet Ping Pong differs in its décor, the theme being the game Ping Pong. It also has actual Ping Pong tables in the rear. Under Chef Carole Greenwood's supervision, the thin crust rectangular pizzas are made with white and wheat flour, drizzled with garlic-laced olive oil, and scattered with high-quality toppings, including fresh mozzarella and tomato sauce made from scratch and tinged with honey and basil. Makers of the Comet are displayed on the wall in black and white photographs, which gives an authentic and special look to the place.
14. Corduroy
Simple yet elegant, this place is situated on the second floor of the Sheraton Four Points hotel. Tom Power is the man behind the power of running this place, with good ingredients and quite ambience. A few items on the menu like rockfish skin, garden of vegetables and chicken breasts in ravioli make for absolute delightful meals. Nice presentation, good wines, and an efficient chef make this place remarkable.
15. Komi
Johnny Monis is competing with one of the top chefs and is not even thirty years old yet. This modern American diner, which recently got a makeover, has a candlelight-setup. A famous dish – roast pigeon bedded on feathery mushrooms. And don't forget to have the house-made fruit lollypops served with the check. Sounds lovely, doesn't it?
16. Majestic
The saviors of this fantastic American café were none other than Cathal and Meshelle Armstrong who also run four classic destinations nearby. Crab cakes, meatloafs, classic cocktails, and Caesar salads, all are part of this great place. Sunday meals are most treasured which might include a big tossed salad, a vegetable of the day, an entrée, buttery whipped potatoes, and a whole pie. And all this just for $68. Thanks to the Armstrongs for not letting Majestic Café turn into a sports bar.
17. Matchbox
Named upon the table surfaces made of resin-and-wood surfaces collected from many places by the owners, Matchstick is divided into three-story town house in Chinatown. And you will see "3-6-9" on the server's t-shirts, signifying that you can order any of these number of mini-burgers by the plate. The place also serves delicious fresh pies that are charred in a wood-stoked oven and topped with mushrooms, artichoke, mozzarella, or Italian sausage, bacon, and pepperoni. The only setback is that you might have to wait till you get your turn because although the place has huge space, it has a lot of fans and the cost is reasonable too.