Turkey and mash is traditional; and much about the same old way to celebrate year after year of gluttonous monotony. For an inspired change this fall; try some fragrant and flavorful recipes. They combine the exotic colors and rich abundance of autumn harvests beautifully in a celebratory dinner menu. From golden corn fritters and colorful pumpkin curry to flavorful baked yam and roasted lemongrass chicken; you'll find dishes savory enough on our list of 10 best Thai Thanksgiving dinner recipes and some traditional curries to add to your traditional Thanksgiving menu this year.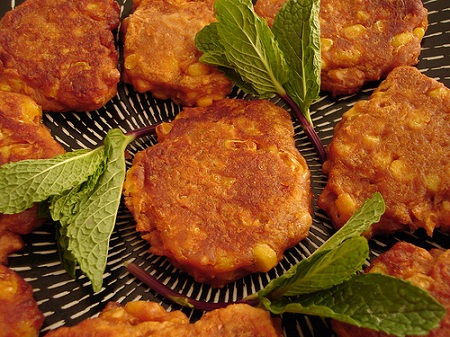 What's more, you'll find something to feed even the vegans among your guests!
1. Appetizer: Thai corn fritters
Stir together an easy appetizer using corn, tofu and seasonal vegetables in fritter batter that needs only a few minutes to fry in hot oil. For a savory dip, use some Thai sweet chilli sauce.
2. Soup: Thai pumpkin coconut soup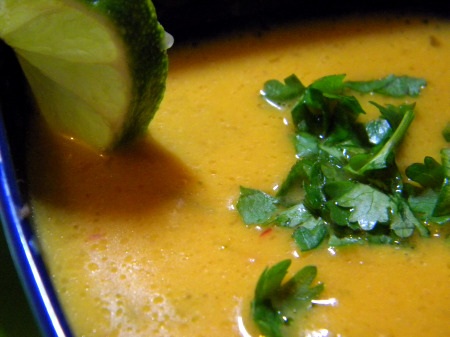 Combine the goodness of pumpkin with coconut milk in a curried soup. Add tofu and chickpeas for vegans, or shrimps for a non-vegetarian delight. Cooked in under 30 minutes.
3. Salad: Thai green mango salad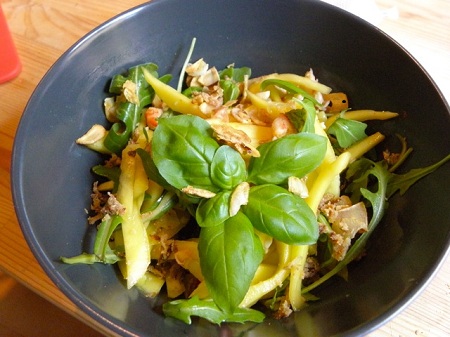 Green mangoes add color and zest to this salad, along with coconut, bean sprouts, cashew nuts, onions, soya sauce and Thai chili sauce. Chicken, shrimp and fish sauce is optional.
4. Salad: Thai cucumber salad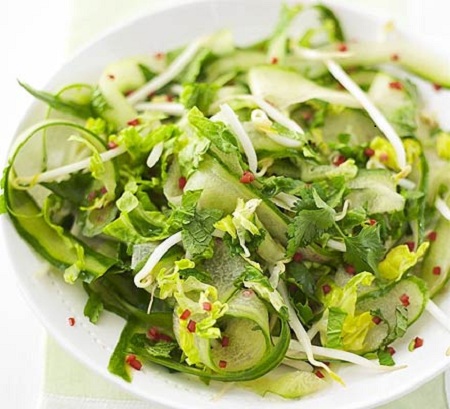 If green mangoes are not so easily available, toss up this quick garden fresh salad with cucumbers, shallots, spring onions, cilantro and drizzle over with soya sauce. Adding shrimp paste and fish sauce is optional.
5. Side dish: Baked sweet potatoes and yams
Trade in your traditional potato dishes for baked sweet potatoes or yam, which drizzled with pepper, cumin, coriander and maple syrup, makes for a sweet and spicy accompaniment. Baking time is 45 minutes.
6. Main course (vegan): Thai pumpkin and sweet potato curry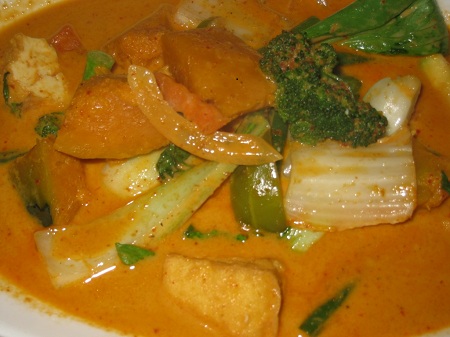 Combine pumpkin, sweet potatoes and chickpeas into a delicious curry thickened with coconut milk. Cooking time is 30 minutes, with the optional addition of shrimp paste and fish sauce.
7. Main course: Roasted thai lemongrass chicken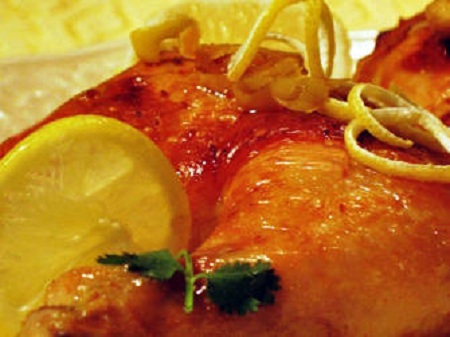 A whole roasted chicken, imbibed with the flavors of lime and lemon, makes for a succulent main dish. Baking time is two hours, with 30 minutes to prepare the chicken and the side sauce. Serve the roasted chicken whole or sliced, slathered with sauce.
8. Main course (vegan): Thai pumpkin curry with citrus notes
Pumkin, carrots, cherry tomatoes, yellow bell peppers and chickpeas combine in this colorful, citrus infused curry for a perfect main dish served with rice. Cooking time is 40 minutes, sprinkle over with pumpkin seeds and nastrium flowers for a gourmet touch.
9. Main course: Baked thai lemon chicken
A lemongrass and garlic marinade adds zest to quartered and baked chicken in just about an hour's cooking time to make a delicious, mildly flavored Thanksgiving dish.
10. Main course: Saffron coconut rice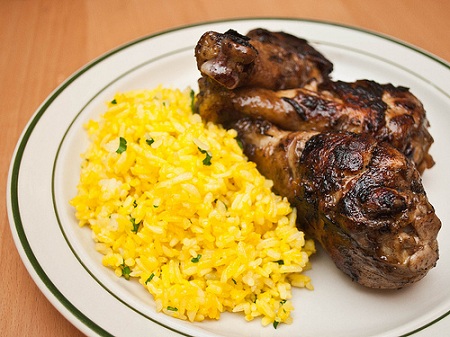 Complete your Orient dinner with Thai jasmine rice cooked in saffron, tumeric, coconut milk and vegetable or chicken stock for some 20 minutes to allow the dish soak in a delicate golden color to brighten up your celebrations.
Are you looking for more?
Well here are a few more Delicious Thai curry dishes that you can add to your menu
1. Red Beef Thai Curry
Let us begin with the yummiest Thai curry, which is acknowledged as the Red Thai curry. It is very spicy and the feature makes it more special. Here you may have some coconut flavor as well.
2. Penang Thai Curry
It is certainly one of the tastiest Thai curries and nearly everyone likes to have such a wonderful dish in dinner. So it could be a nice dish for a special dinner. However, the precise curry is not too much spicy and even it is a bit sweeter than the other Tahi curry dishes.
3. Massaman Thai Curry
The next one is the most admired Massaman Thai curry. It is one of the most luscious southern Thai recipes. The outstanding recipe of the cardamon and cinnamon gives the dish an amazing sweet-smell.
4. Green Thai Curry
While we are listing the popular Thai curries, we must not fail to remember the most famous Green curry. Chili and coconut mil are the main ingredients of the particular dish. Nevertheless, you could have more flavors like fresh basil, fresh cilantro, etc. So, you must taste the wonderful curry, if you are fond of Thai food item.
5. Fiery Thai Red Curry
Hot and stimulating, the Thai Fiery Red Curry is a flavorsome delicacy that stirs up the senses and stimulates the taste buds. Easy-to-made home recipe, this traditional delicacy begins with blending Thai red curry paste with some seasonal vegetables, meat/poultry and some coconut milk for a healthy exotic experience. Depending upon your taste, it can be made fiery hot or you can also opt for a milder version. Traditionally, this dish is simmered over a fire or stove, but alternatively you can also cook it in the oven.
6. The Green Chicken Delight
Try the Thai Green Chicken Delight to welcome the season in grandeur. Morsels of tender chicken are simmered slowly in a green paste along with some bamboo shoots and vegetables such as zucchini and red bell pepper. Coconut milk is then stirred into the mixture for a rich, creamy texture. Slow cooking helps in releasing a rich aroma of flavors. This dish tastes grand when served with hot steaming Thai rice.
7. The Classic Yellow Curry
A popular delicacy in Thailand, the Classic Yellow curry is cooked with chunks of chicken and potatoes with coconut milk and coconut cream. Adding coconut cream gives a rich consistency to the dish. Unlike the other curries, this dish doesnt require a curry paste for its preparation. Easy to make at home, the preparation is seasoned with curry powder, turmeric and chili sauce to enhance its flavor. It tastes incredible with steamed rice.
8. Thai Shrimp Coconut Grandeur
Imagine devouring some succulent shrimps in exotic coconut gravy. The Thai Shrimp Coconut Grandeur does the wonder. The simple recipe can be prepared by tossing a few key ingredients together in a stove with fresh coconut milk. Adding some pineapple cubes with roasted coconut enhances the flavor of the curry. This is a splendid party dish that uplifts the mood of the guests with its luscious taste. Enjoy serving!
9. Thai Fish Curry
Having fish is always considered to be a healthy choice, especially during fall, because of rich content of Vitamin D, which is much required during the season. The Thai fish curry gives a soothing experience to diners indulging in this delectable palate. The wholesome meal is rich in flavors and includes fresh vegetables, with chunks of fish and shrimps smeared with Thai sauce, cooked in a pot or wok. Delicate in texture, this curry can be prepared in less than 30 minutes. The spiciness of the dish can be contoured by adding coconut milk to it. It acts as a great entrant for easy cooking options and provides a divine taste that lingers for a long time. Happy cooking!
Summery
Exotic Thai cuisine is the flavor of the season . So, welcome this season by indulging in some rich harvest of fresh vegetables and delectable meat. Because of its perfect harmony of the flavors and aroma; this cuisine finds a global recognition among world cuisines.