You all look forward to Christmas and Thanksgiving because of the gourmet delights that is unleashed on your taste buds. But one problem many of you face after clearing away the table off the last remnants of the prized Christmas turkey is 'What to do with the leftovers?'. If you are one such foodie stuck with the leftover turkey, fret not, for you have at your disposal a potential treasure of delightful tidbits with just that little amount of messing around from your part. To begin with, a turkey may be well cooked on the dinner table, but as a left over it tends to get a little dry. That can be fixed quite easily by warming it again.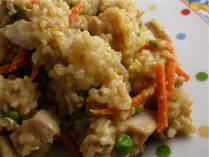 Here are ten of the best leftover turkey recipes that will prolong Christmas in your taste buds for a few more days.
1. Turkey fried rice: Turkey fried rice is not much different from chicken fried rice. Ensure that your fried rice is perfectly cooked by allowing it to cool once after cooking it. Add sesame oil as the final stroke and enjoy.
2. Hot Turkey sandwich: This is one of the quickest and simplest turkey recipes, all you need are two slices of bread, lightly buttered and topped with shredded turkey. Doused with gravy, sprinkled with salt and pepper and served with leftover cranberry sauce and dressing, you have a yummy quick bite.
3. Turkey fingers with cranberry dip: Turkey fingers are just like chicken fingers. The cranberry dip introduces a sweet and sour mix that go so well with the fingers.
4. Turkey meatball pie: All you need for Turkey meatball pie is turkey that has been ground well and vegetables. Add some cream of mushroom soup and a little white wine, your pie is more than ready to go.
5. Turkey mornay: Begin your day with this. Just heat the turkey in a cheesy sauce. Then top it on an English muffin and serve with tomato and basil topping.
6. Turkey pesto casserole: All you need to do is dunk the turkey with fresh veggies and pesto in a cream. You will get a wholesome and hearty dish that your whole family will savor even after Christmas.

7. Turkey curry: This simple yet tasty dish explores the flavors of pineapple, curry powder and spices. Best served with hot rice, it makes a wonderful family meal.

8. Turkey tetrazzini: It is a simple dish with mushrooms and tomatoes but an effective way of using up the leftovers.

9. Curried Turkey salad with dried cranberries: For this salad you need a chopped cooked turkey, curry powder, mayonnaise, dried cranberries or raisins, green onions and few optional seasonings. Two tablespoons of chutney will give that added edge.

10. Turkey supreme: All you need to do is melt butter, add flour and then pour hot chicken broth over it. In a separate pan heat half and half and add to the sauce. You can garnish the sauce with roasted nuts and serve hot over the leftover turkey, rice or noodles.