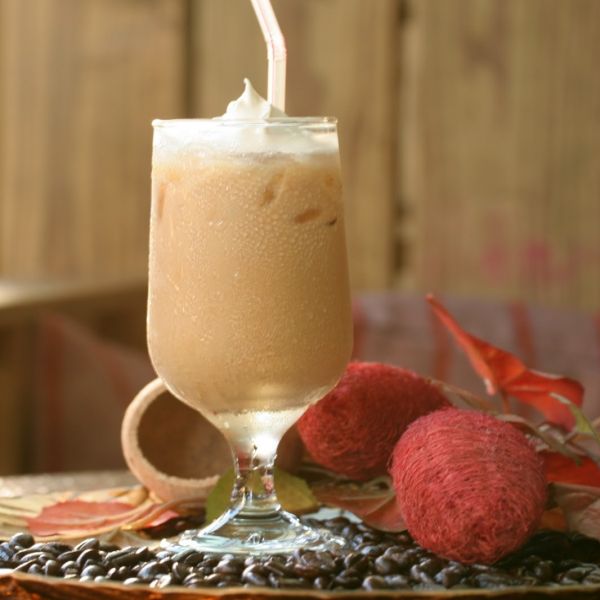 Some people just cannot do without their morning coffee or tea's. But in the summer months, when it is scorching hot outside, you would probably prefer something iced and cold rather than a steaming cuppa. Other than the usual iced coffee and teas, there are a variety of other cold drinks you can have with your breakfast. Listed below are some easy recipes.
1. Coffee Milkshake
Ingredients
1. 1/4 cup very strong coffee or espresso, cooled
2. 2 cups ice cream or frozen yogurt
3. 1/2 cup milk
4. 2 tablespoons chocolate syrup (optional)
5. Ice cream and chocolate shavings
Process
Make a cup of very strong coffee or your favorite espresso and keep aside to cool completely.
Then into a blender, add the cooled coffee, the ice cream or yogurt and milk and blend on high for a couple of seconds.
Once completely blended, add the chocolate syrup and then serve with a scoop of ice cream and grated chocolate as garnish.
2. Arnold Palmers
This drink is also known as half and half and is a great substitute for those ice tea cravings. It can be made ahead and stored in the refrigerator. All you need to do is pour in a glass whenever you want.
Ingredients
1. Tea bags- 5
2. Water – 2 quarts
3. Lemonade concentrate- 2 table spoons
4. Ice cubes- to serve
Process
To make the iced tea, take the tea bags and clip their strings together so it is much easier to handle them while inserting into the pitcher.
Bring the water to a boil and then transfer it into a large pitcher.
Add the tea bags into the water, making sure they are completely immersed.
Keep it aside to steep for about 5 to 10 minutes, then remove the tea bags.
Add the lemonade concentrate, give a good stir and top with some ice cubes if you are serving it immediately or otherwise, close the pitcher with a lid and refrigerate till you are ready to use.
3. Iced strawberry lemonade
This is a perfect morning drink, since you get to enjoy fresh strawberries, as well as get your breakfast drink in the freshest possible way.
Ingredients
1. About 10 strawberries
2. 2/3 cup sugar
3. 4 whole lemons, with rinds cut off
4. 3 cups ice
5. 1 1/2 cup water
Process
Hull and clean the strawberries and throw them into a heavy duty blender along with about 1/3rd cup of sugar, 1/2 cup ice and 1/2 cup water.
Blend on high till the strawberries are puréed and all the ingredients are well mixed.
Pour into 4 individual glasses. Keep aside.
Then rinse off the same blender and add the lemons, the remaining sugar, water and ice.
Then blend away till you get a smooth slushy like consistency.
Pour immediately on top of the strawberry and serve immediately.
4. Mocha Frappuccino
This iced drink gives you your morning shot of caffeine but in a much more interesting way. If you have an espresso machine, then the job is much more easier.
Ingredients
1. 4 shots espresso or really string coffee
2. 1 cup milk
3. 2 cups ice
4. 1/4 cup sugar
5. 3 tablespoons chocolate syrup, plus more for topping
6. Fresh or canned whipped cream
Process
Make your espresso as per the machine instruction or make some really strong coffee, the way you usually do. Keep aside to cool slightly.
Then add the warm espresso and sugar into a blender and blend way till well combined.
Add in the milk, ice and chocolate syrup and continue blending until the ice has been crushed to a fine consistency.
Pour into individual glasses and top with some whipped cream and a drizzle of some chocolate syrup.
5. Special Iced Chai Latte
This home made version of the Chai latte is so simple and absolutely delicious and a great accompaniment with a brunch meal.
Ingredients
1. A couple of tea spoons of vanilla
2. 4 teabags
3. 1/4 cup Skim milk
4. Sugar- to taste
Process
Make some tea ice cubes by brewing 1 cup of your favourite chai tea using 2 tea bags and then pouring it into ice cube trays and finally freezing them to retain the strong flavour.
Once you are ready to make your latte, brew two more cups of tea, using the remaining tea bags and allow to steep for at least 5 minutes.
Then remove the bags and keep aside to cool completely. To fasten this process, you can even refrigerate it for a while.
When ready to serve, stir the chilled tea along with the milk in a tall glass and add a couple of dashes of vanilla and sugar for extra flavour
Throw in 3 or 4 chai tea cubes and sip away while chomping on toasts.
6. Peachy and lemony Iced Tea Frosty
This fruity drink is perfect for those warm and sultry summer morning when all you want to do is chill by the pool side, reading a book and sipping on something cold.
Ingredients
1. 2 cups strongly brewed iced tea – infused with lemon slices and fruit (see above note)
2. Lemon slices
3. Sliced Peaches
4. 1/2 teaspoon cinnamon
5. 1/8 teaspoon cayenne
6 2 cups ice
7. 3-6 tablespoon maple syrup or sweetener of choice
8. 2 ripe bananas
Process
Make a simple iced tea as mentioned above and then pour into a pitcher.
Add a couple of sliced lemons and peaches and soak in the tea overnight for the citrus and fruity flavours to infuse well.
When you are ready to make the drink, pour the tea into the blender with all the remaining ingredients and blend well.
Add the sweetener of choice after doing a taste test and serve in tall glasses.
7. Absolutely sweet tea
It cannot get simpler and tastier than this. If you have a sweet tooth then this tea is sure to blow your mind away.
Ingredients
1. 2 quarts of water
2. 6 tea bags
3. 1 cup sugar
4. Ice cubes
Process
Bring the water to a boil and pour it into a glass pitcher.
Add the tea bags and let it steep for at least 15 minutes.
Then remove the bags and add the sugar. Stir well to dissolve completely and then chill and serve with plenty of ice cubes and some mint leaves for garnish.
You can reduce the sugar, if it is too sweet for your liking.
8. Espresso Granita
If espressos are your kind of a drink, but its still a bit too hot for those hot sunny mornings, then make an espresso granita where you will be able to enjoy the best of both worlds.
Ingredients
1. 2 cups fresh espresso
2. 1/2 cup granulated sugar
3. Whipped cream to serve
Process
Make 2 cups of espresso as per instructions, preparing it as light or strong as your preference.
Then stir in the sugar till dissolved and pour into a shallow baking dish.
Cover the dish with a plastic wrap and freeze completely.
Once the espresso is properly frozen, scrape it off using a fork and place in a large cup. You should be able to get a granita kind of crystals.
Top with whipped cream and serve with a spoon as it would be much easier to eat that way.
9. Vanilla Iced Coffee
Vanilla and coffee are two flavors that come together extremely well in this iced coffee concoction.
Ingredients
1. 1 cup coffee
2. 1 tablespoon heavy whipping cream
3. 1/2 teaspoon good quality vanilla extract
4. 2 tablespoons sugar
Process
Make your coffee as per your preference and chill it in the refrigerator for a couple of hours.
Then into the chilled coffee add the cream, vanilla and sugar. Mix well to completely dissolve.
Pour into tall glasses and serve cold with some whipped cream or ice cream if you like.
10. Iced Cappuccino
Ingredients
1. 2 tablespoons instant coffee or espresso
2. 2 tablespoons sugar
3. 1/3 cup half & half
4. 4 to 6 ice cubes
5. 2 tablespoons boiling water
Process
Into a bowl add the instant coffee or espresso powder, sugar and water and mix well till the sugar has completely dissolved. Chill in the refrigerator for a few hours.
When ready to serve, pour the mix into a blender along with half & half and ice cubes and blend till you get a frothy mix.
Serve immediately while its still cold.