There are many gift baskets for corporate and business houses, which can convey just how much you appreciate their support. Even after the basket is long empty of the fruits, cheese and chocolates, you will still be remembered for your impressive gift. To impress the clients and staff, there are 10 selections of gift baskets listed here, as a way of showing your appreciation.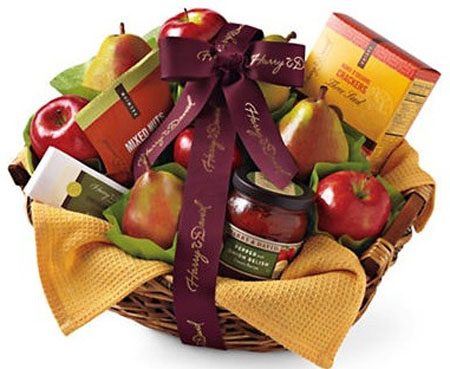 1. Harry & David Christmas gift basket
This has a selection of treats for everyone and is one of the perfect gift baskets for corporate houses. It contains a variety of Christmas delectable, like the traditional fruitcake, Christmas tree shortbread, peppermint hot cocoa mix, Royal Riviera pears, Moose Munch Snack, decadent truffles and milk chocolate dipped peanut brittle.
2. The grand gourmet gift basket
This is sure to impress your recipient with a delightful taste of luxury gourmet treats. This wicker basket has no fruit selections but is packed with goodies such as chocolate chip cookies, smoked almonds, garlic crackers, smoked salmon, Italian biscotti and key lime cookies.
3. What's brewing coffee tower
For those who enjoy coffee and chocolates as well, will truly appreciate this gift. It comes in attractive boxes of six piece tower, with a selection of chocolate treats such as chocolate drizzled biscotti, Lindt Fioretto cappuchino truffles, chocolate covered espresso beans and Peet's coffees.
4. Harry & David supreme tower of treats
This stack of festive colored boxes is a sure way of impressing a crowd of people. This gift basket has something for everyone, like a chocolate cake, moose munch snack, cherry chocolates, Royal Riviera pears and smoked salmon.
5. Kosher gift basket – golden pyramid
This is also a tower packed assortments of Kosher treats done up in pretty packaging. The Jewish clients and staff will happily gorge on the traditional preserves, cashews, dried fruits, pistachios and pure honey Bible crisp breads.
6. Hole in one golf gift basket
This is a unique way of impressing golf loving clients and comes in an expensive but attractive wicker basket. The basket includes golf goodies such as a shoe bag, golf balls, two golfing books, shoe and club brush and fluorescent ball markers. Added to these, are included tasty treats, such as onion crackers, cheese spread, beef sausages and pistachios.
7. Bountiful fruit and gourmet gift basket
This traditional fruit and gourmet gift basket is not only attractive but holds a selection of food, which would surely please the taste bud of the recipient. There is a pleasing assortment of cheese, candies, jams, cookies, crackers and seasonal mixed fresh fruits.
8. Godiva chocolate mixed gift basket
The Godiva gift basket is sure to go down well with chocolate connoisseurs, with its selection of quality chocolate treats. The basket contains delicious treats such as, dark chocolate graham crackers, Godiva dark chocolate hazelnut almond biscotti, Godiva strawberry cheesecake dessert chocolate, milk chocolate pretzels, a matching candy dish and Godiva dark chocolate squares.
9. Deluxe healthy gift basket
This gourmet snack foods gift basket is not only healthy but tasty and has an assortment of award winning gourmet foods. The tantalizing treats include honey wheat pretzels, raspberry honey mustard pretzel dip, blueberry jam, apple chips and Edamame & Goji berry snack mix.
10. Gift tree premier gourmet gift basket
This premier gift basket is assorted with rich and enticing treats such as, vanilla walnut moravian cookies, artichoke piquillo bruschetta spread and almond roca. All these goodies are packed in an attractive keepsake trunk, tied up with a big red bow and is surely impressive.