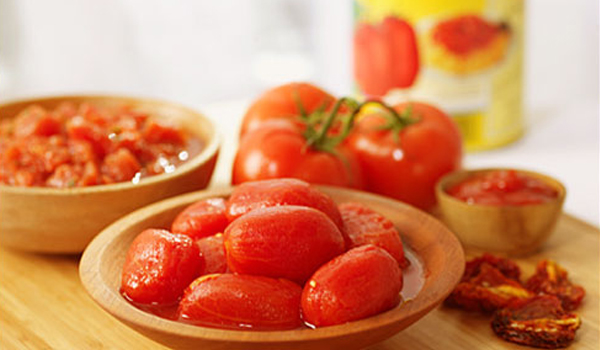 With an ample supply of canned tomatoes, one can make a wide variety of tasty dishes. Not only are they easy to work with, but these canned goodies also give the dishes an alluring flavor and aroma. Listed below are 10 easy recipes which will allow you to make healthy and lip smacking dishes out of canned tomatoes:
1. Ratatouille
Coming from France, ratatouille is a tasty dish which serves as a food lover's ultimate delight. To prepare this dish, one should heat oil and then add to it chopped zucchini and eggplant, crushed garlic and red capsicum which is de-seeded and chopped. When the vegetables become soft, do add to it canned tomatoes and bring it to a boil. To this, add fresh basil which is chopped and stir thoroughly. The ratatouille thus prepared can be served with cooked lamb or chicken, or else it can be served on a toast.
2. Mexican style baked potatoes
The addition of tomatoes is what makes Mexican style baked potatoes different from the other styles. To prepare this vegetarian delicacy, you will have to first tenderize unpeeled potatoes by baking it. In another saucepan, do heat together canned Mexican beans and tomatoes, then mix with chopped coriander. Pour this mixture over the cooked potatoes and top it with chopped avocados or a dollop of sour cream while serving.
3. Steak with tomato relish
To make your barbecued steak and steamed vegetables even tastier, you can try combining it with a tomato relish. To prepare the relish, you will have to add canned tomatoes and a splash of red vinegar to previously cooked wedge shaped red onions. Bring this mixture to a boil and to it add brown sugar and continue cooking until the mixture thickens, to make a tasty tomato relish.
4. Sausage and tomato pasta
Adding tomatoes with cooked sausages and pasta will give you a dish which is a delight for your taste buds. The first step in the preparation of this dish is to thinly slice cooked beef sausages. To this, do add a cooked vegetable mixture which contains chopped zucchini, celery and carrot. To this mixture, add tomatoes which are canned, pasta which is cooked, grated cheese and chopped parsley and combine thoroughly. Transfer this mixture to an oven proof dish, top it with grated cheese and bake it until golden brown.
5. Poached eggs and tomato sauce
To spice up the taste of simple poached eggs, you can combine it with tomato sauce. To prepare the sauce, add chopped onion and crush garlic to preheated oil. To this, add canned tomatoes and bring to boil. Finish off the sauce by adding a little bit of crushed chili and lots of freshly chopped coriander. Serve the sauce by drizzling it over poached eggs which are placed on toasted Turkish bread.
6. Baked fish with olive, tomato and capers
To prepare this seafood delicacy, you have to place thick fish fillets in an oven proof dish. Pour over the fish a mixture of drained capers, tomatoes which are canned and some white wine. Top it using black olives, and bake till the fish has been cooked completely. The dish can be then served by using baby rocket leaves as a topping.
7. Feta, tomato spaghetti and spinach
This tasty dish can be prepared by first cooking sliced garlic cloves in oil until it turns soft. To this, add tomatoes in a can, and bring it to a boil. Add baby spinach leaves to the tomato-garlic mixture and cook till the leaves have wilted. This mixture is to be added to crumbled Persian feta and cooked spaghetti. Add crushed Basil leaves, toss the dish and serve.
8. Chicken, mushroom and bacon stew
For preparing the stew, you will have to first add fillets of chicken thighs to preheated oil and cook till it is golden brown. To this add diced bacon, halved mushroom buttons and chopped onions and cook till they turn soft. Finally, add some chicken stock and stir it with tomatoes which are canned and cook thoroughly. The stew thus prepared can be topped with sour sauce and served hot with steamed rice.
9. Chickpea and bacon soup
To prepare this simple dish, cook together diced bacon, crushed garlic and coarsely chopped onions, until the ingredients are soft. To this, add drained chickpeas and tomatoes, which are canned and cook thoroughly. Serve the soup hot by topping with shredded cheese and fresh parsley.
10. Virgin Mary
To prepare this popular drink, you will have to mix together tomatoes, (either fresh or canned ones), lemon juice, a little water, red Tabasco pepper sauce and Worcestershire sauce, in a blender until a smooth consistency is obtained. Transfer the drink to a serving glass which is decorated with a celery stick and then serve.