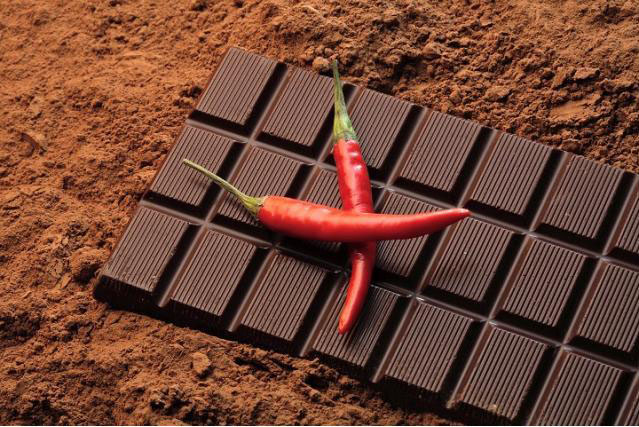 Have you ever thought about how bread and pickles or chilli and chocolate will taste? Ever wanted to try strange combinations in food but held yourself back wondering how it would taste? We all seem to have weird cravings and tastes when it comes to food. It is always fun to get creative and innovative with our food. Well, it is time to get inspired and play with some flavors. Here are some amazingly shocking food combinations that not only taste great, but also fulfill the need of the hour.
Here is a list of top 10 hot and strange food combinations:
1. Chocolate and coffee
It is a common trick of adding a little coffee while baking with chocolate. It not only gives great taste, but also helps strengthening chocolate flavor without overpowering the taste of coffee.
2. Strawberry and peppers
We all know strawberries go great with sugar, but a slight sprinkling of finely ground fresh pepper corns gives a highlight to its flavor.
3. Mashed potato with cream and ketchup
Potatoes are a must in every kitchen, so whenever you are hungry just boil and mash two potatoes and enjoy it with cream and ketchup. It is instant and yummy!
4. Coffee and salt
A dash of salt in your coffee can bring a new fusion of flavors altogether and gives a strong espresso taste to your coffee.
5. Apples and vanilla
Vanilla is a versatile ingredient that goes well with almost everything, but more interestingly it blends very well with apple and removes its acidic flavor.
6. Meat and aniseed
It is a very famous trick by many home cooks and chefs to add an aniseed while stewing meat. You can't taste the aniseed but it gives a rich flavor to the meat.
7. Carrots and sugar
You must be wondering how sugar can go well with vegetables, but it is a common trick to add sugar to balance the flavors and also to give a little richness to the carrot curry.
8. Eggs with spam and white rice
The combination sounds bizarre, but it tastes great to eat. Boiled eggs with spam and white rice make a great combination together.
9. French fries with mustard sauce
This could be a great tip for snack lovers. It is an easy and tasty combination when you are hungry at 4.
10. Fried chicken and honey
One of the most old and classic combinations is that of deep fried chicken and honey. It could be enjoyed as an appetizer before the meal or as a snack in the evening when you are hungry. In any way it will fill your stomach and is really healthy.
Must be sounding completely mad and bizarre? Well, experiments can be really fruitful sometimes. I am sure you will change your opinion after trying some of these. You'll definitely say it is one of the most delicious bizarre combinations!!