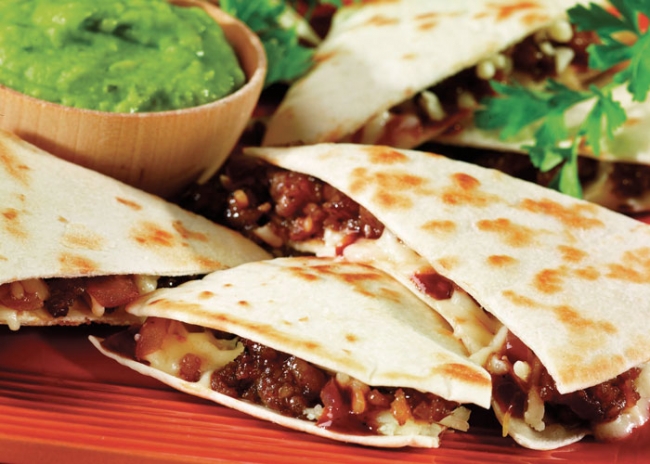 If you have invited some guests for dinner and wish to treat them with some innovative appetizers, then you can have a look at ten such recipes. These will be immensely appreciated by your guests, who cannot help praising your culinary skills. Have a look:
BBQ Quesadilla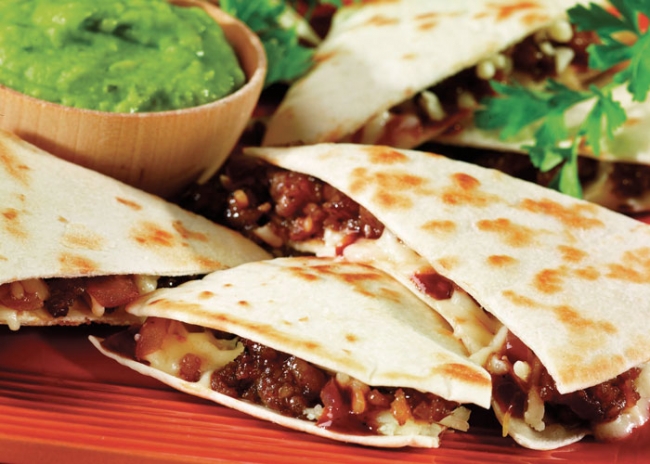 The sour cream, tortilla and salsa combination is a great appetizer before a sumptuous meal.
Complexity level: Easy
Time taken: 15 minutes
Ingredients
1. 1 pound hot sausage
2. ½ cup shredded onions
3. ½ cup BBQ sauce
4. 4 flour based tortillas
5. 1 cup cheese
6. Sour cream
7. Salsa
Process
In a skillet, cook the sausages and the onions over medium flame till brown. Now, add BBQ sauce and cook again for sometime. In a separate plate, place two tortillas and smear them with cheese. Now, make two sections of the cooked sausages, add cheese and remaining tortillas. In a cooking pan, heat oil and add quesadilla at a time and cook until brown. Finally, cut them in cubes and serve with sour cream and salsa.
Avocado Salad in Lettuce Wraps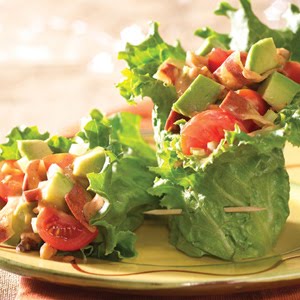 This is a spicy, meaty dish that will make you feel hungrier for a bigger bite.
Complexity level: Easy
Time taken: 10 minutes
Ingredients
½ cup fat free mayonnaise
2 tablespoon lime juice
1 tsp. chili powder
1 avocado, peeled and chopped
¼ cup parsley, pounded
10 cherry tomatoes
6 baked bacon strips
¼ cup chopped walnuts
12 small lettuce leaves
Process
In a big mixing bowl combine mayonnaise, lime juice, chili powder, avocado, celery walnuts, tomatoes and bacon strips and stir uniformly. Now, place a lettuce leaf and heap a dollop of this mixture over the leaf. Wrap it in the leaf and serve immediately.
Four-Cheese Potato-Stuffed Mushrooms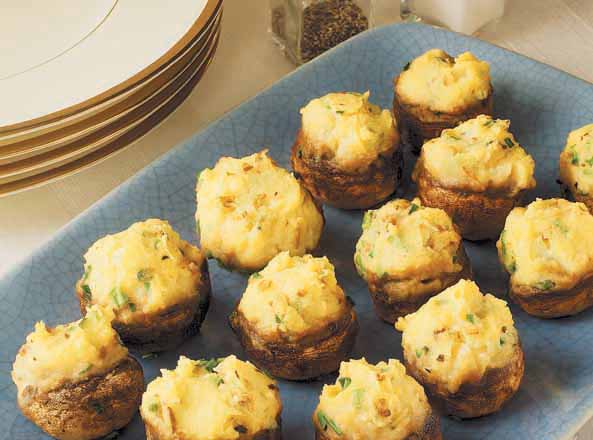 This vegetarian appetizer is for those who prefer light food during the main course.
Complexity level: Easy
Time taken: 15 minutes
Ingredients
Mashed potatoes
12 large mushrooms
3 tbsp. butter or margarine or cheese(cooking medium)
3 tbsp. chopped chives
¾ tsp. common salt
Process
In a microwave, prepare the mashed potatoes. Cut the mushroom stems and set the caps aside. In a separate pan, add the cooking medium and put the chopped mushroom stems. Cook them until tender and add the mashed potatoes, chives and salt and mix uniformly. Next, put the cooked ingredients inside each of the mushroom caps and bake them for ten minutes till they are brown in color. Serve hot.
Cheese Stuffed Jalapeño Peppers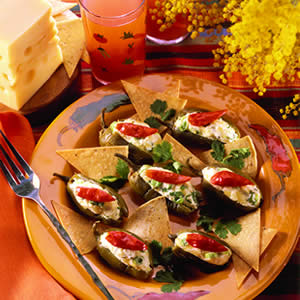 This cheesy appetizer is not for the health conscious guys. So forget your health and pamper your taste buds.
Complexity level: Easy
Time taken: 12-15 minutes
Ingredients
1. 16 jalapeño peppers, pickled
2. 2-4 ounces of goat cheese
3. 1 cup Jarlsberg cheese
4. ½ cup grated Manchego cheese
5. Hot sauce
6. ¼ cup green onion, diced
7. Cilantro leaves
Process
Stir fry the onions until brown. Now, in a separate bowl mix Manchego cheese, Jarlsberg cheese, goat cheese and dash of hot sauce with some salt. Next, slit each of jalapeno peppers keeping the stems and the veins intact. Fill each of the jalapeno with this stuffing and refrigerate them. Remove from freezer, wrap the jalapenos with aluminum foil and bake them till the cheese start melting. Serve with red chilies.
Traditional Hummus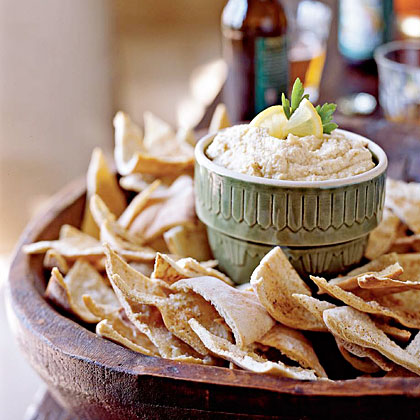 This appetizer will give you a flavor of the traditional Middle Eastern recipes.
Complexity level: Easy
Time taken: 20 minutes
Ingredients
ounces of chickpea
2 garlic, crushed
½ cup water
¼ cup sesame seed paste
3 tbsp. lemon juice
2 tbsp. extra virgin olive oil
¾ tsp. salt
¼ tsp. black pepper
Process
Cook the chickpeas with little water until the mixture becomes smooth. Add cheese, chopped parsley and ground cumin into the mixture and stir well. Spray oil in a baking tray and transfer the cooked smoothie into the utensil. Put grated cheese over the same and bake for 25 minutes over 400 degrees. Garnish with chopped parsley leaves and serve hot.
Holiday Salsa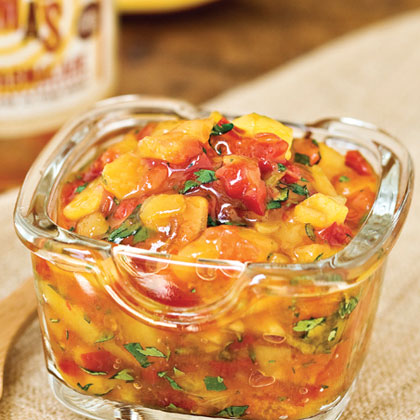 This fruity appetizer is a great way to start a sumptuous meal. You can also enjoy it chilled.
Complexity level: Easy
Time taken: 10 minutes
Ingredients
1. 10 oz. pepper marmalade
2. 2 cups diced mangoes
3. ¼ cups cilantro, chopped
Process
In a large bowl, put marmalade, diced mangoes, fresh cilantro and stir and mix uniformly. Serve immediately. Alternatively, refrigerate the ingredients and serve chilled.
Shrimp Rillettes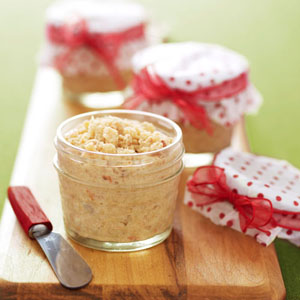 This appetizer is best enjoyed with bread or toast. This is a great option for chilled appetizer.
Complexity level: Easy
Time taken: 30 minutes
Ingredients
6 tbsp. butter
1 pound shrimp, shelled and deveined
2 tbsp. brandy or sherry
2.5 tsp. red pepper, ground
2 tbsp. fresh lemon juice
¾ tsp. common salt
Process
In medium flame add butter and fry the shrimps until they become opaque. Add brandy or sherry and cook further for 30 minutes. Transfer the cooked shrimps in a food processor and chop them finely and stir with salt, butter, lemon juice and red pepper. Now, place the mixture in a serving bowl and refrigerate. Serve chilled.
Sun-Dried Tomato and Ricotta Bruschetta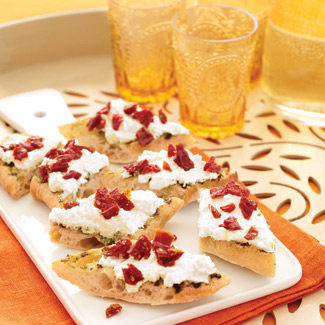 This mouth watering appetizer is a party recipe your guests will definitely enjoy.
Complexity level: Easy
Time taken: 5-8 minutes
Ingredients
12 oz. baguette, cut horizontally
2 tbsp. pesto, refrigerated
0.5 cup party skimmed ricotta cheese
0.25 tsp. salt
0.25 cups tomatoes, sun dried and chopped
Process
Brush the chopped baguette with pesto and combine ricotta cheese and salt with it. Grill the baguette for two minutes till fully toasted. On a serving dish, place the grilled baguette, spread ricotta mixture on top and garnish with sun dried tomatoes and serve.
Savory Spiced Shortbreads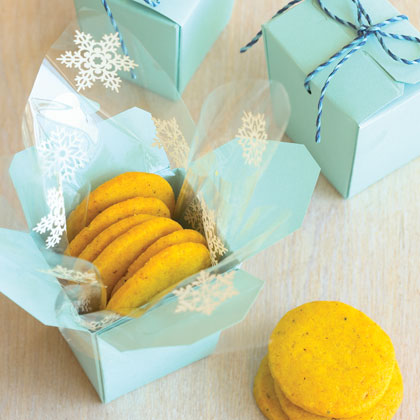 This appetizer is the most suitable one with cocktails. The butter-curry flavor will be really appreciated.
Complexity level: Easy
Time taken: 1 hour
Ingredients
¾ cup butter
2 tsp. sugar
1 tsp. salt
1 tsp. curry powder
½ tsp powdered cumin
½ tsp. ground black pepper
¼ tsp. turmeric powder
¼ tsp. cayenne
1 ¼ cups of flour
Process
Beat the sugar with butter first. Now, one by one mix all the spices. Finally add flour and mix further. Now, roll the dough in the form of a wide log and chill for at least an hour. Cut the long rolls into smaller pieces and bake for 12 minutes at a temperature of 325°. Enjoy crackling appetizers.
Asian-Spiced Pecans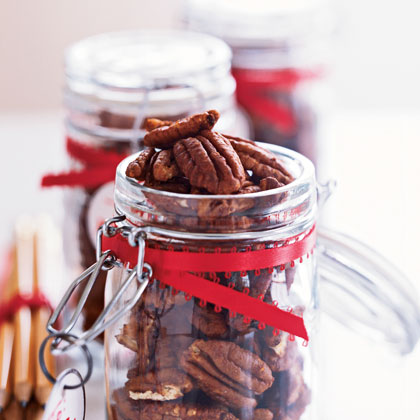 This oriental appetizer has a great shelf life. Cook once and store it in a refrigerator or an air tight container enjoy up to eight months.
Complexity level :
Easy
Time taken:
12 minutes
Ingredients:
1. 2 tbsp. low sodium soy sauce
2. 1 tbsp. tomato paste
3. 2 tsp. Thai seasoning
4. 1 tsp. butter or margarine
5. Pinch of black pepper
6. Pinch of red pepper
7. 4 cups pecan halves
8. 1/8 tsp. salt
Process:
Combine all the ingredients uniformly with a whisk, excluding the pecan halves. Now, put the pecan halves and toss well so that the get smoothly coated with the mixture. In a baking tray coated with cooking spray smear jelly. Now, pour the mixture and set to bake for twelve minutes at a temperature of 350°. Serve chilled.